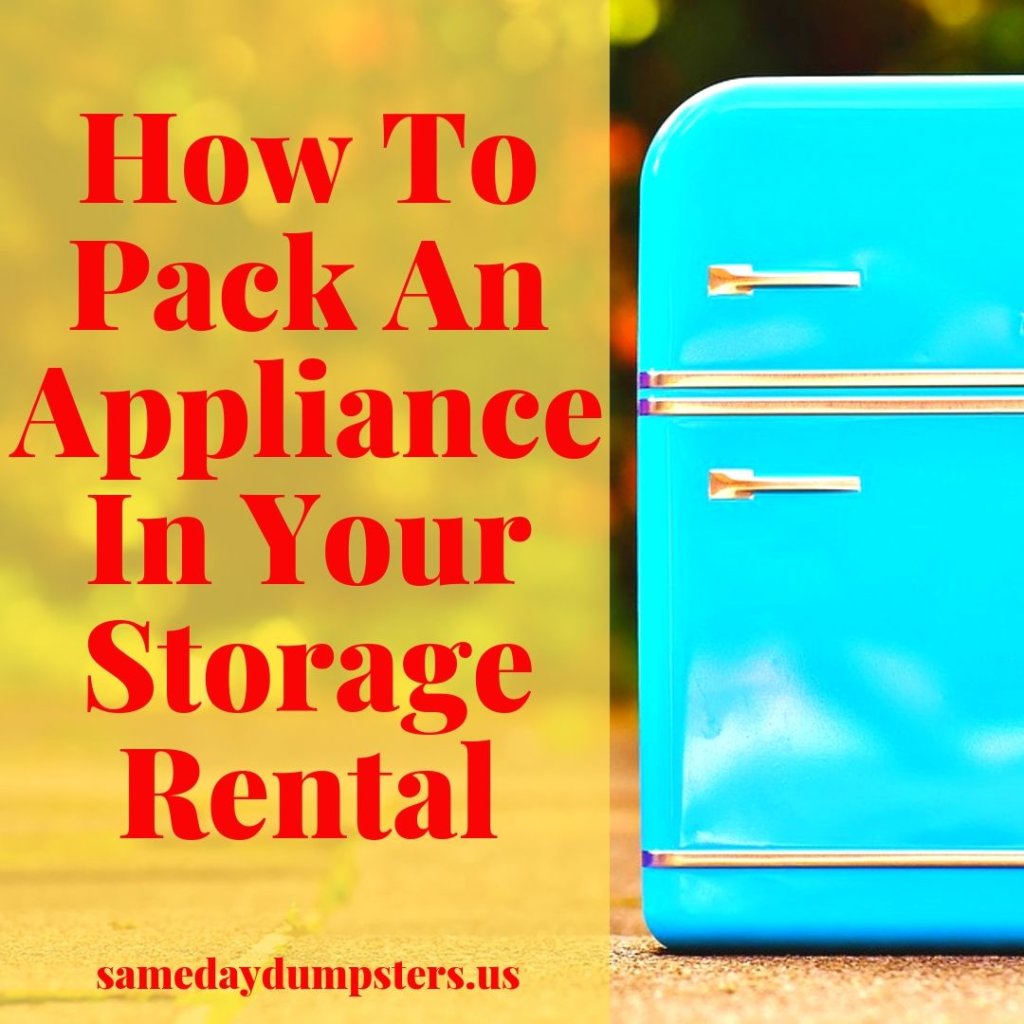 Whether you need a portable storage box or a self-storage unit nearby, there are certain universal ways to pack larger items or those of a delicate nature.  Sometimes you may want to hold on to old appliances for back-ups, hand me downs or even to stock that future vacation home.  Some folks keep older appliances to sell or for parts.  No matter the reason you would like to hang on to them, appliances, like washers, dishwashers and refrigerators, need to be stored a certain way in order to minimize damage to the unit or other items they are kept with.
Here are a few ways in which you can successfully secure items in your storage:
Final Cycle – For washers and dishwashers, run an empty cycle with bleach or white vinegar before storing to properly clean out and dispel any gunk that may be stuck or hanging around.
Drain – Always make sure to empty any water that might be lurking in hoses, tubing, holding tanks, etc. to prevent mildew from forming or liquid from freezing and causing damage to the machine.
Clean – Thoroughly clean the interior and exterior of your appliance.  Make sure there are no food or sugar remnants on, or in, your appliance because they attract bugs.  Scrub and vacuum all drain pans, filters, tubes and vents.  Wipe rubber cushion seals usually located on doors around machines that use water because mildew loves to breed in such places.  You can even leave a box of baking soda in all of your appliances to eliminate unwanted odors.
Insect-Repellent – Spray your appliance with a bug repellent to detract them from nesting in or on your appliance or searching for food bits.
Protect – If there is any glass or fragile parts, remove them and move them separately.  Be sure to wrap them in cloth or soft materials to prevent damage.  If they fit inside the appliance, you can store them there.  Mark them as "Fragile" and make sure they are stored without anything leaning against them or on top of them.  To prevent dents or scratches to your appliance finish, wrap the machine in bubble wrap or moving blankets while transporting them to storage.  Any refrigerators you are moving should always be upright.
Secure – During a move, make sure all appliance doors are secured shut with tape.  When you get them into storage, remove the tape and leave doors propped open for better air flow to prevent mildew.
Back Of The Pack – Unless you need to use them immediately, put your appliances in the back of your storage unit or portable storage container.  This allows you better access to smaller items in the front of your storage rental.
Power Off – If your storage unit offers power outlets, ignore them.  Do NOT plug them in and leave appliances running while in storage.  This can cause a fire or leak.
Cover It Up – Once inside your storage container, place a tarp or sheet over your appliance to keep dirt and dust off of them and help avoid accidental scratches.
By safely transporting and storing your appliances, they can last much longer and be of use in the future.  Following these quick tips only takes a few moments and are worth saving you from having to buy a whole new appliance or replacing other personal items damaged by one that is improperly stored.  Protecting your appliances – new or old – is an investment that is priceless.
To find out how our new storage container can help you,  give us a call at 630.716.1030 or click here >>> Same Day Storage Solutions!