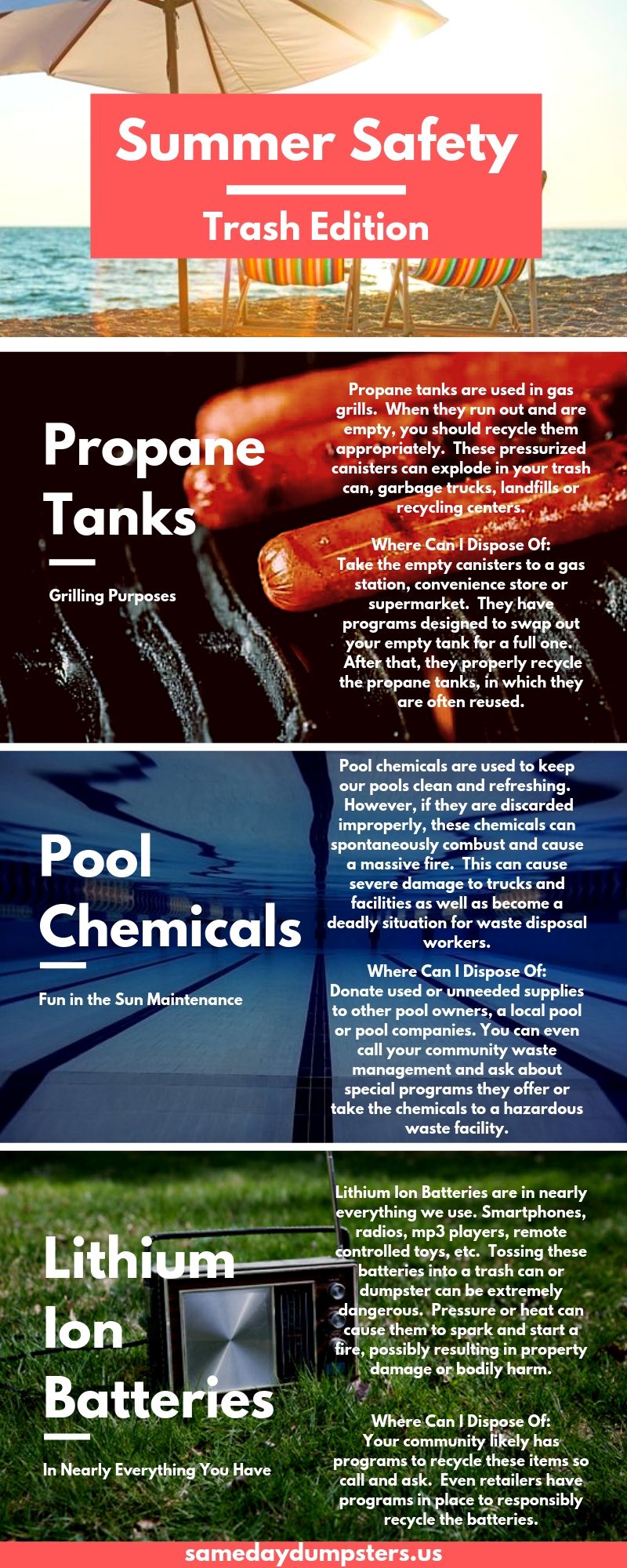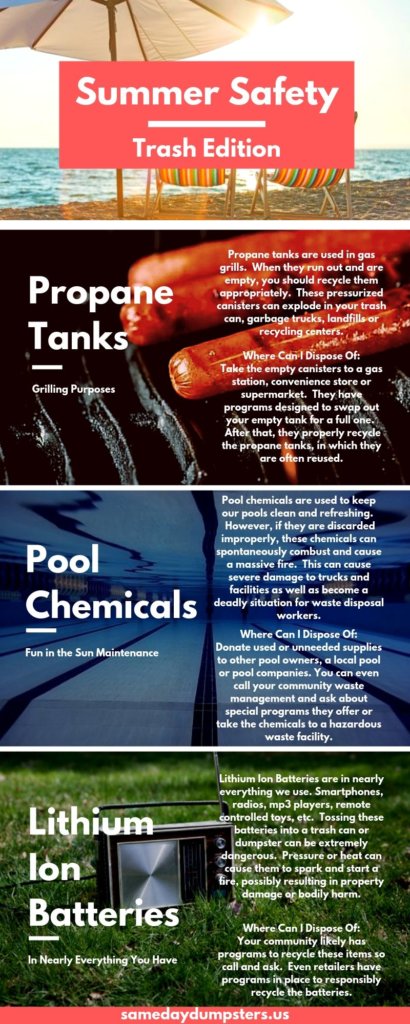 SUMMER SAFETY – TRASH EDITION
Prevent Disaster and Damage So You Can Enjoy Your Vacation!
PROPANE TANKS – Grilling Purposes
Propane tanks are used in gas grills. When they run out and are empty, you should recycle them appropriately. These pressurized canisters can explode in your trash can, garbage trucks, landfills or recycling centers.
Where Can I Dispose Of:
Take the empty canisters to a gas station, convenience store or supermarket. They have programs designed to swap out your empty tank for a full one. After that, they properly recycle the propane tanks, in which they are often reused.
POOL CHEMICALS – Fun in the Sun Maintenance
Pool chemicals are used to keep our pools clean and refreshing. However, if they are discarded improperly, these chemicals can spontaneously combust and cause a massive fire. This can cause severe damage to trucks and facilities as well as become a deadly situation for waste disposal workers.
Where Can I Dispose Of:
Donate used or unneeded supplies to other pool owners, a local pool or pool companies. You can even call your community waste management and ask about special programs they offer or take the chemicals to a hazardous waste facility.
LITHIUM ION BATTERIES – In Nearly Everything You Have
Lithium Ion Batteries are in nearly everything we use. Smartphones, radios, mp3 players, remote controlled toys, etc. Tossing these batteries into a trash can or dumpster can be extremely dangerous. Pressure or heat can cause them to spark and start a fire, possibly resulting in property damage or bodily harm.
Where Can I Dispose Of:
Your community likely has programs to recycle these items so call and ask. Even retailers have programs in place to responsibly recycle the batteries.
When You're Ready To Dump The Stink And Start Fresh, Consider Renting A Reliable Blue Dumpster.  We Have 8 Convenient Locations.
Dumpsters in Elk Grove Village
Bolingbrook Same Day Dumpster Rentals
Dumpsters for Rent in Hickory Hills