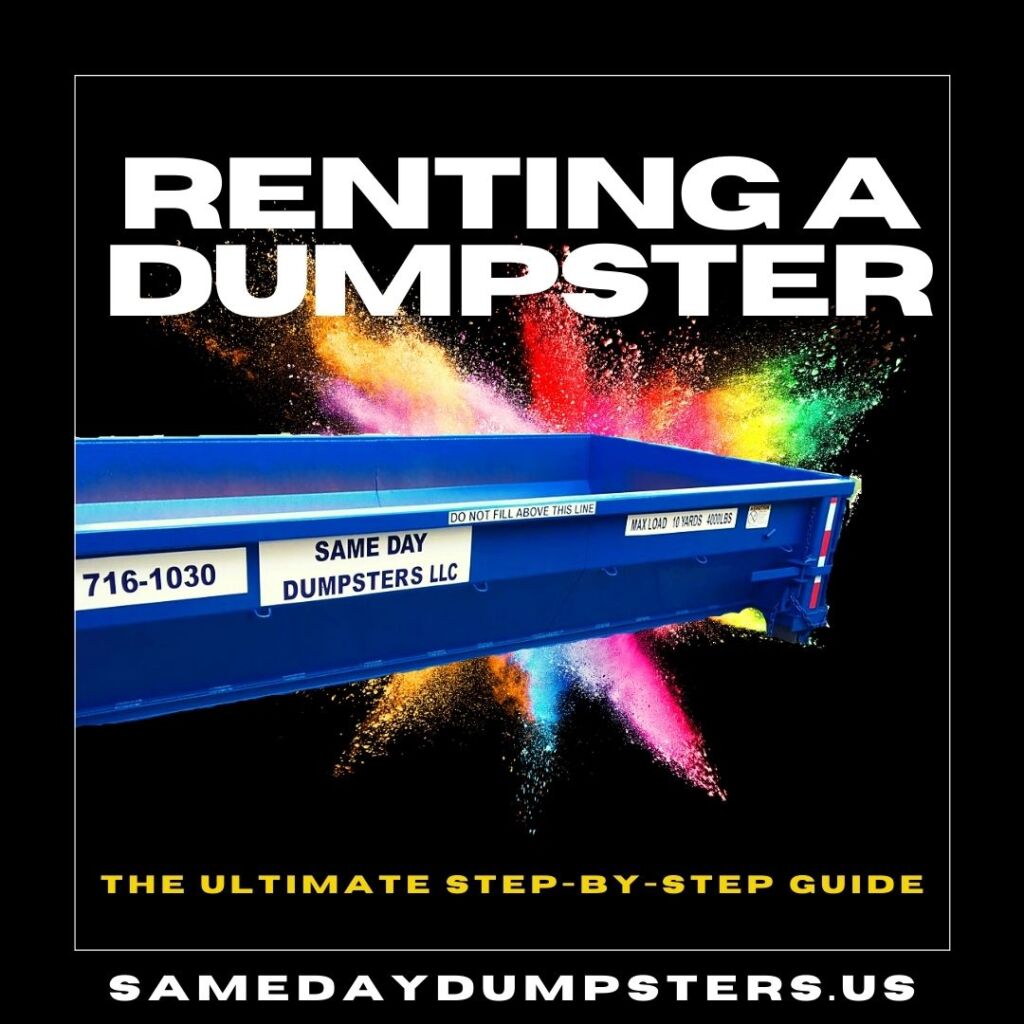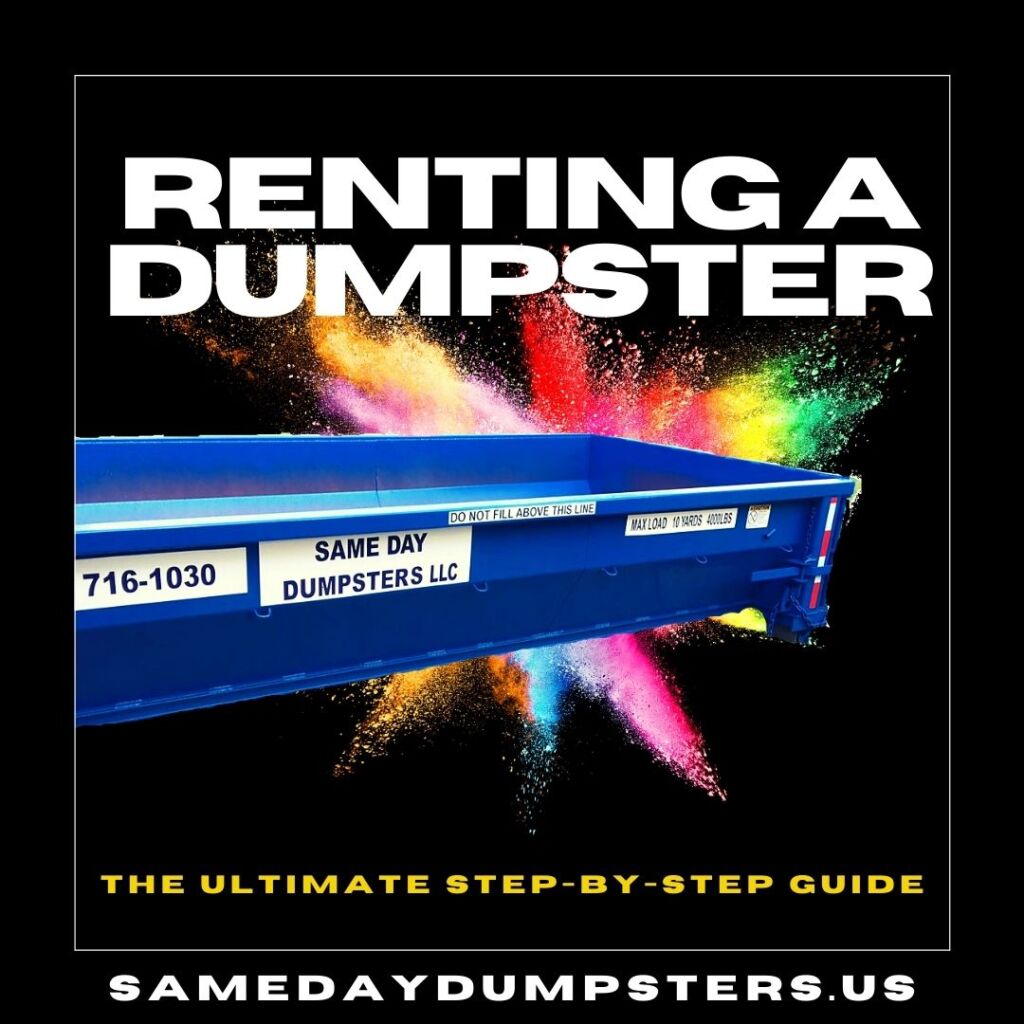 When it comes to renting a dumpster, what exactly do I have to do?
First Things First…
Why you might use a dumpster can range anywhere from attic, garage and basement clean outs to landscaping and roofing jobs to moving, events and disaster clean up.  From a pipe bursting causing you to need to remove damaged materials to remodeling rooms in your home, there are many reasons the average person or contractor would need to rent a dumpster.
It's a good rule of thumb to predict you will need one if you'll have a lot of debris such as:
walls
roofing tiles
furniture
siding
trees/shrubs
cement
sod
demolition materials (whatever is ripped out)
garbage/misc. debris
Once you have established that you need to rent one, the question becomes which kind?
There is a difference between roll-off and commercial dumpsters.  Commercial dumpsters are the kind you typically see behind restaurants or hotels.  They are small, usually with a lid, and are typically emptied out weekly.  A roll-off dumpster is the kind you rent for temporary projects, such as those mentioned above, like home improvement gigs or clean outs.  They sit on the back of a truck and are, quite literally, rolled off onto your property.  Once filled, you call the company and they return to retrieve the dumpster.
It's important to know the difference between the two so you don't end up booking the wrong kind.
Some companies incorrectly use both terms, which can be confusing.  They may also be using the term "commercial" simply as a substitute for heavy-duty or larger dumpsters.  Make sure to specify with the contact representative that the dumpster is for construction or renovation jobs or check out the website to see pictures of what equipment they are offering.
How Big?
Roll-off dumpsters come in a variety of sizes to accommodate jobs from small to large.  Each company is different in the range of sizes they offer but they typically come in ranges such as 5, 10, 15, 20, 30 and 40 yards.  This simply refers to how many pounds of debris each can hold.  Depending on the materials you are dumping and how strategically you pack a dumpster, you could conceivably free up more space.
For a simple break down on which size works well for different projects, take a look at our quick tip guide, What Dumpster Size Should I Choose?
If you are still unsure about the size dumpster you need, your local dumpster service representative can assist you.  Simply explain the type of project you are looking to complete and they can help narrow down the best choice for your needs.  It's better to be a little bigger than too small for your debris.
Something else to consider is that not all dumpsters are made for every material.  Some are made to accommodate heavy debris, like cement or construction demo.  Explaining your project and the nature of your debris to the dumpster rental service will make sure you get the right equipment to handle the job.
Keep Fees In Mind…
Speaking of selecting a dumpster size, it's important to remember that if you overfill your dumpster, you can be charged additional fees.  Each dumpster has lines or signs printed on them letting you know how much debris you can put into it and where you can't pass.  For those who break these limits, the dumpster rental company will likely charge you fees for doing so.  It also creates a danger to anyone interacting with the dumpster.  If your dumpster is too heavy or has items past the top fill line, it's likely a hazard to drivers and pedestrians on the roadways.
With this in mind, it can help you select a better size dumpster.  Again, it is worth it to be a bit bigger than too small.
Other Fees…
Before you schedule a dumpster, check with your local township or village about rules pertaining to dumpster rentals, especially if you need to park it on the street.  Some towns require you to have a permit in order to place a dumpster on your own property.  You may also only be allowed to have possession of that dumpster for a specified duration.  It's better to know what rules apply than to have Code Enforcement shut down your project halfway through.
What Can You Dump?
While a dumpster can pretty much accommodate all of your debris, there are certain things that absolutely CAN'T be tossed inside.  There are items deemed too hazardous that need to be disposed of in very specific ways through programs or special drop-off centers.  Some debris is actually illegal to toss into regular waste or a dumpster.  To understand what you can and can't dump, check out Wait, You Can't Throw THAT Away!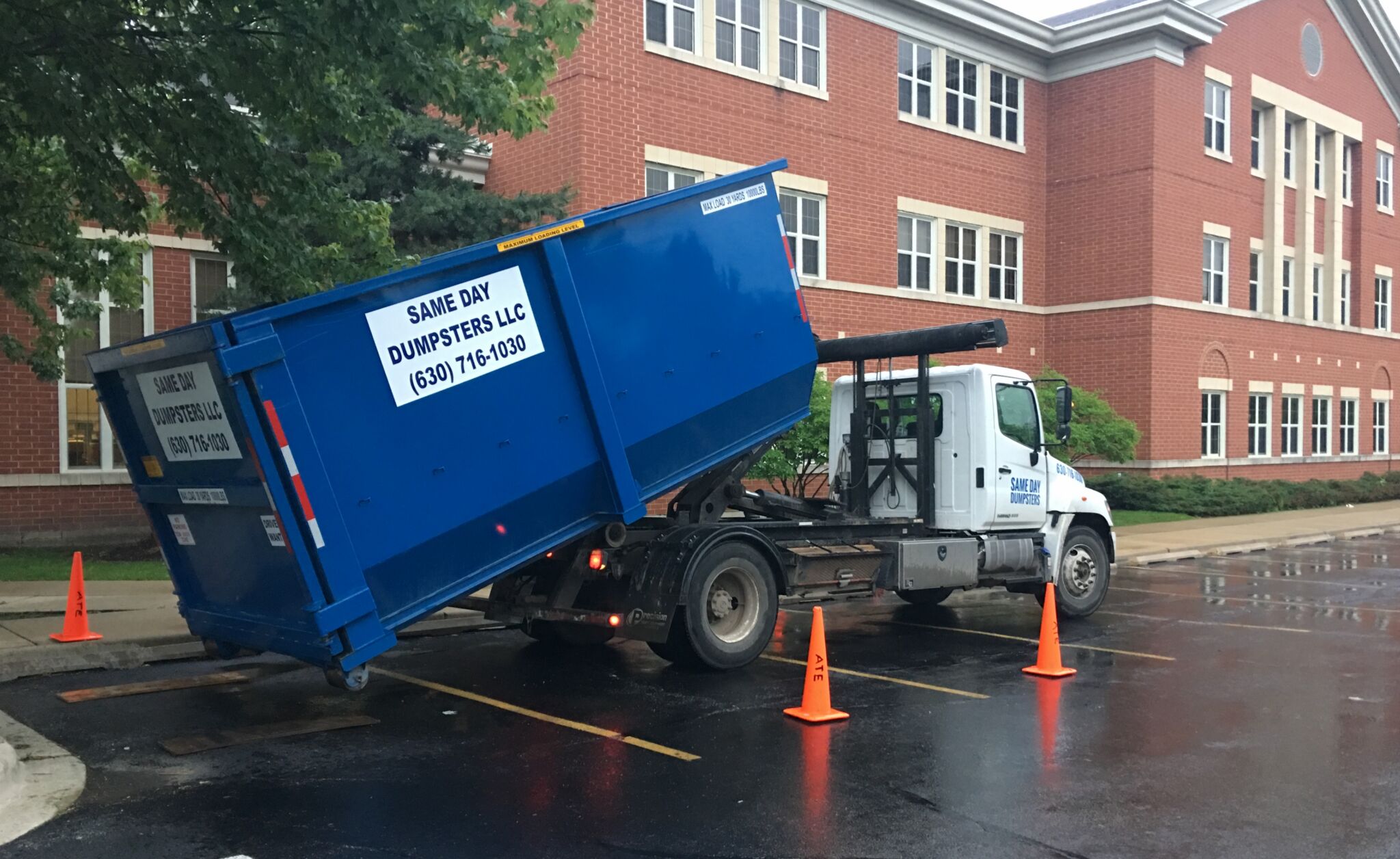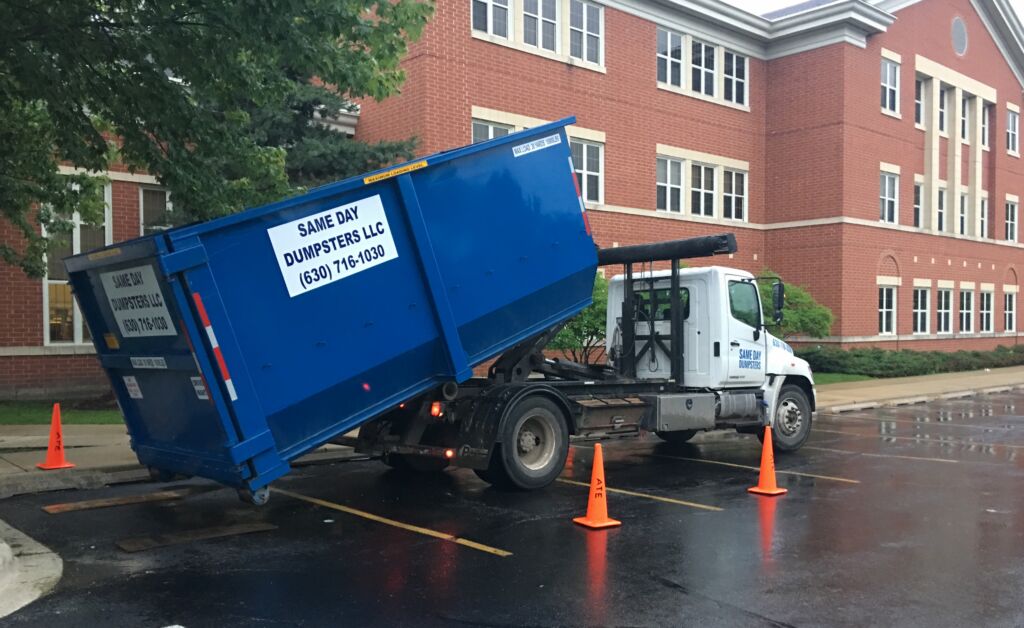 Selecting The Right Company
Once you've done research on the dumpster itself, it's time to choose the right service for you.  The most important factors to keep in mind are how they treat you on the phone, how knowledgeable they are when you speak to them, how transparent they are with prices and explaining their policies, if they have the right equipment for your project and the prices themselves.
Another very important factor to consider is if they charge Flat Fee pricing.  This is one standard fee you are charged for the dumpster rental.  Instead of paying by the weight, or ton, you simply pay one fee up front.  As long as you follow the guidelines and don't overfill, you won't be charged extra.  Many people prefer this straight forward pricing, especially if they have a project that will generate a lot of debris.
For an in-depth, detailed look at what questions you should ask and the exact information you need to make the best selection possible, check out Choosing A Dumpster Rental Company.
Schedule The Dumpster
At this point, you are ready to rent a dumpster.  Contact the dumpster rental service of your choice and book the days you need.  Make sure you understand their terms and conditions before booking.  Most of the time you do NOT need to be home for a dumpster to be delivered to the property you specify.
Prepare For Dumpster Delivery
Whether you are home or not, you'll need to make sure the space where the dumpster will go is all set for a smooth drop off.  It should be a level space, with room on all sides, clear of debris.  Having a roll-off dumpster on a hill or sinking into grass probably isn't the best idea.  Make sure there are no hanging branches or wires and that a dumpster truck can easily access the space.  Since the dumpster driver will need to raise the dumpster in order to roll it off in the correct area, it's wise to have at least 22 feet of free space available above it.  Avoid corners or tight areas with obstacles that can make it near impossible, and slightly hazardous, for the dumpster driver to navigate safely.
You may also want to consider temporarily parking cars elsewhere or moving things to allow the dumpster to be placed closer to your work zone.  This decreases the distance you will have to carry heavy debris.  Also, think about how you plan on tossing debris into the dumpster.  The larger the dumpster size, the higher the walls.  It may be difficult to heave objects over the top and you might benefit from walking it inside using the back door.  Most roll-off dumpsters have a back door that swings open, allowing you to waltz into the dumpster and pack it more efficiently.  You'll need at least 6 feet of free space to use this feature.
How To Pack A Dumpster
Packing a dumpster efficiently is definitely an art form.  There are definite ways in which you can place debris that will free up space for more.  It's more like the game of Tetris than you may realize but don't worry if your video game skills are a bit rusty.  Here are the highlights:
Heaviest Items on Bottom
Cast from Soil Stacks and Bathtubs Can Be Hauled For Cash (Yourself or Scrappers) Instead of Dumped
Place Doors Flat on Floor or Along Walls
Stuff Loose Material (Bags, Garbage) in Gaps and Around Heavy Debris
Break Boxes Down Flat
If you've selected the right spot for your dumpster, close to the area in which the debris is and ample space to use the back swing door, you can easily walk heavy items right in without hurting yourself or quickly becoming exhausted.
Finished?
When your project is complete or you are finished with the dumpster, contact your dumpster rental company so they can retrieve it.  A dumpster service will not automatically come pick up your dumpster when your rental period is over.  They will assume you need more time and schedule another rental period.  To avoid this happening, it's important to remember that you need to call the dumpster service directly for dumpster pick up.
Make sure there is no debris lying around the dumpster and no obstacles that will prevent the driver from collecting it.  Some companies may charge a fee if they have to clean up loose debris and can refuse to pick up if the load is unstable and poses a safety risk.  As long as all garbage and debris is secure and there's ample room for the driver to access and load the dumpster, retrieval should be a breeze.
That's it!  You've successfully completed renting a dumpster – congrats!  Now you know what to do for future projects and you can help others better navigate the waters of roll-off dumpster rentals.
To speak with our Burr Ridge Same Day Dumpsters Rental specialists about booking a dumpster, call 630.716.1030 today!