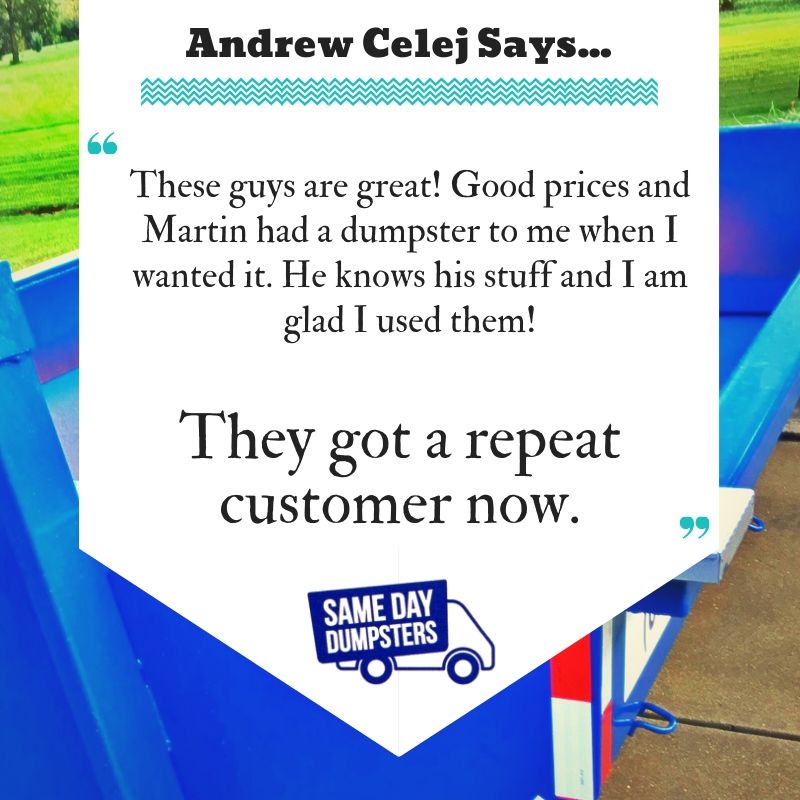 "These guys are great!  Good prices and Martin had a dumpster to me when I wanted it.  He knows his stuff and I am glad I used them!  They got a repeat customer now." – Andrew Celej
A Solution For Every Problem
There are so many reasons why you might need a dumpster.  You could be a homeowner needing to clean out an overstuffed garage or a roofer needing one on the job site fast.  You could be a community center looking to host a recycling event or a business needing to downsize.  From renovations and moving to party clean up and removing flood damage, we care just as much about the why as we do the how.
Our values center around how we can help Chicagoland and provide the same amazing service that we would want our own family and friends to receive every day no matter where they go.  It all starts with care.
We want to help solve your dilemma or provide a neat resolution for your project.  Same Day Dumpsters believes in keeping prices affordable and being readily available for immediate delivery WITHOUT skimping on service.  This has been our focus since day one and that is why so much of our business comes from repeat customers.  Customers just like you.
We would like to express a sincere thank you to Andrew for sharing his Same Day Dumpsters Rental experience with us and we look forward to helping him on future projects.  Same Day appreciates all of our Chicagoland clients and will continue to evolve our customer service and explore more products that we can offer to provide even more solutions.  Your satisfaction is our priority.  Don't forget that when you see our trusty blue dumpsters out and about, feel free to give us a friendly wave!
SAME DAY DUMPSTERS – 630.716.1030
Call For Information Or To Book An Appointment