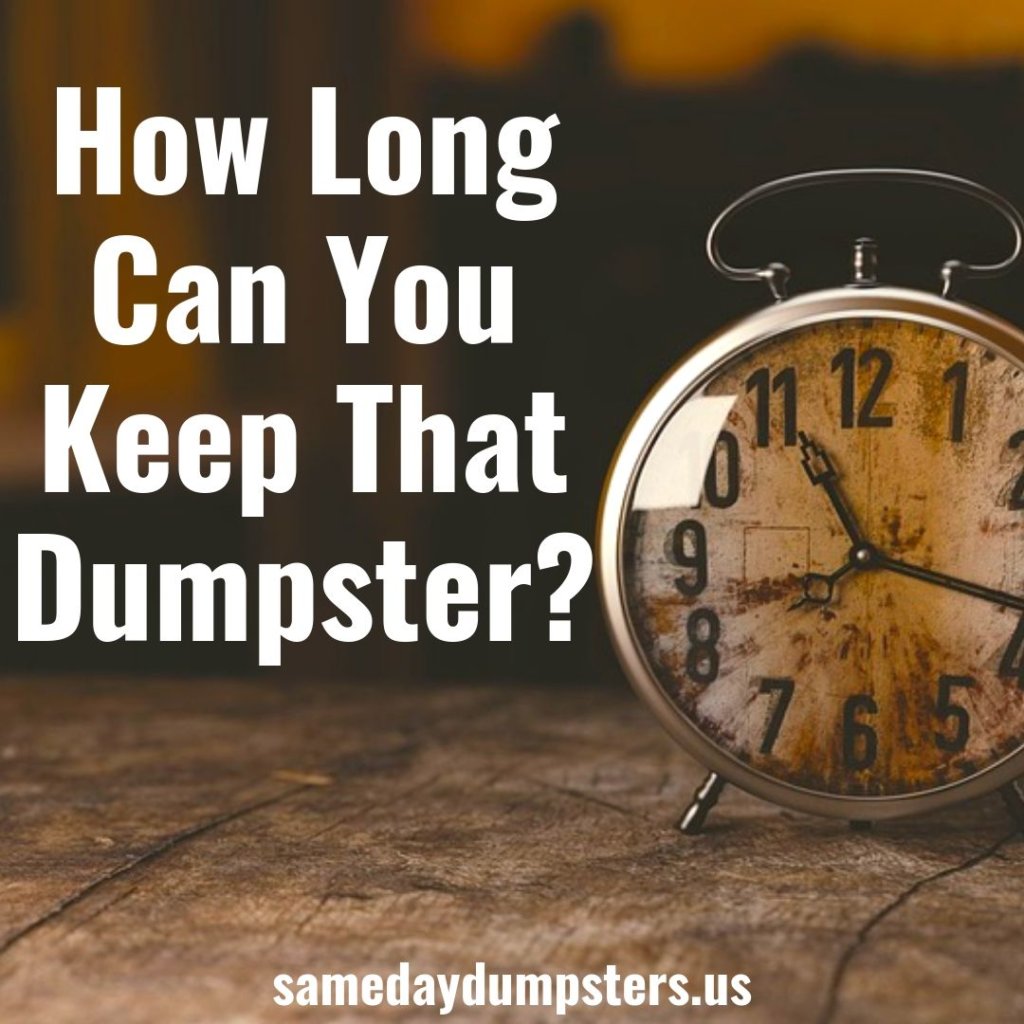 A toilet bowl sticking out of a cheap dumpster rental may not be the most glamorous sight when one drives through your neighborhood but, luckily, it should only be there a few days to a few weeks.  There are quite a few factors that go into how long you need that container from your local dumpster rental company, such as efficiency of your remodeling crew or type of project, but it is usually a short duration of time.  Once your project is complete, you can get that refuse hauled away the same day and enjoy the finished product of all that hard work.
You may run into some problems that may cause your project end date to push back a little but that shouldn't be a problem with your contractor or the dumpster rental company.  However, you may end up in hot water with your neighbors and the city you live in.  So, how long is TOO long to keep that dumpster?
Check Your Dumpster Rental Limits  
Always check with your township or village about the specifics of having a dumpster for your project.  You already have to confirm with them if you need a permit to have it in the first place so you might as well inquire about any special rules their Code Enforcement or Municipal departments may have regarding dumpsters.  Of course you may have particular limits if your dumpster is in an alley or on a roadway but your city may be strict even in regards to private property.  Some townships limit the amount of time you are allowed to have that dumpster rental in your own driveway.
Beauty and the Refuse Beast  
The reasons for this come down to mostly aesthetic or safety concerns.  Many high-end neighborhoods restrict the time you can have a construction dumpster on a property in order to keep up the curb appeal of the area.  Seeing rusted pipes and mounds of garbage may dampen that image.  The more well-kept and eye-catching of an area, you are more likely to run into a village pressuring you to only have that cheap dumpster rental for a few days.
The other issue with keeping a dumpster for a long period of time is that of safety.  The wind or severe storms can blow debris into neighbor's yards or onto roadways posing unsafe obstacles for both pedestrians and vehicles.  It can also raise the ire of your neighbors who may call the village to do a surprise check and hold up your project for inspection.
Another concern of having that dumpster rental longer is that others will throw their garbage or project waste into your dumpster.  Figuring that they save money on a dumpster rental, they bring all of their debris to yours and let it become your problem.  This could cause trash to overflow from the dumpster and create a huge mess which poses both a safety and visually atrocious combination.
What To Do If You Can Only Have That Dumpster Rental For A Short Time  
If you have been given a time restriction on your dumpster rental from your township, you can still keep your project on track.  Many times it is still a reasonable restriction and you can do all of your normal demo and hauling within the first few days or week.
If you find yourself with a mere day or two to have a dumpster rental on your property, do all of your wrecking at one time and pile the debris in the garage or near your closest exit before your container is scheduled to arrive.  When your same day dumpster rental is delivered, spend that day or day and a half hauling and packing the refuse into it.  Then you can have your dumpster rental service pick it up and avoid any steep fines by breaking township restrictions.
In the case of dumpster rentals for any of your projects, play it safe and ask your village or town if there are any time limits.  In the end, this could end up saving you a fortune in fines.  No matter if you are faced with a limit on being able to keep your dumpster or your project befalls hardships and you need to keep it longer, your same day dumpster company can work with you and help accommodate the particulars of your needs.
Now that you know how long is too long, you are ready to  book your cheap dumpster rental today!