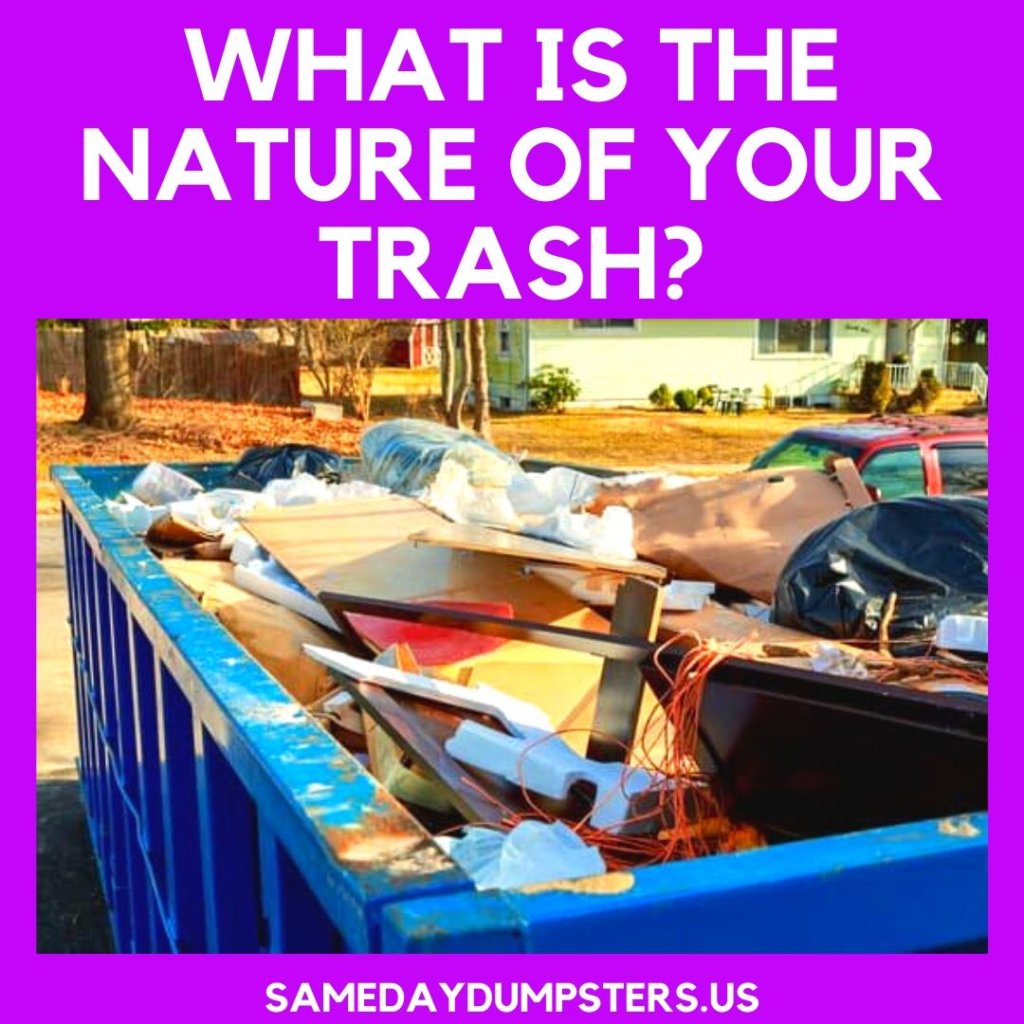 When you rent a dumpster, how often are you thinking about what trash you're putting in it?  Chances are, not often.  While you may understand the list of no-no's that absolutely can't be placed inside a dumpster rental, it isn't common knowledge that having a mixed load could cost you plenty in surcharges.
A mixed load contains multiple types of materials or recyclables, such as wood, cardboard, plastics and concrete.  Typically, a mixed load dumpster needs to go to be processed in a sorting facility to separate out the recyclables.  Depending on the materials, weight and available sorting facilities, this can cost you extra fees.
A clean load is a dumpster that is filled with one particular type of material, such as asphalt, plastics, cardboard or concrete.  This load can be taken to a standard recycling or disposal facility and doesn't incur additional fees for sorting.  Before you book a dumpster, you will want to inform the rental company that you have a load of recycling so they know what destination it needs to be taken to and can give you accurate pricing.
One of the best ways to avoid fees is by filling up the dumpster with a clean load, having it taken to a recycling center and then filling it a second time with any remaining materials.  Being completely transparent with your dumpster rental company is the best way to go because they can recommend a proper container size and help keep your costs low.  The biggest cost comes from filling a clean load dumpster with mixed materials so be sure to articulate what debris you expect from your project when you speak to a dumpster rental specialist to avoid miscommunications and issues from arising.
Whether you are creating a clean or mixed load, take caution to follow the fill lines and limits on your dumpster.  Each dumpster is marked with a clear fill line – the line you should not stack debris higher than – and a weight limit – the total weight your load is allowed to be.  These precautions exist to keep everyone safe.  Going over these limits will put the dumpster driver at risk of injury as well as potentially cause accidents on the roadways or damage to the equipment.  Usually, if your load exceeds these levels, a dumpster driver has no choice but to leave the dumpster where it is until you can rectify the issue.  This can result in extra transportation fees, rental fees or contract violations.
The best thing you can do is to ask your dumpster rental service.  Discuss your project and what debris you expect.  They should be able to steer you in the proper direction and save you money!
To find out how our dumpster rentals can help you, give us a call at 630.716.1030 or click here >>> Same Day Dumpsters!