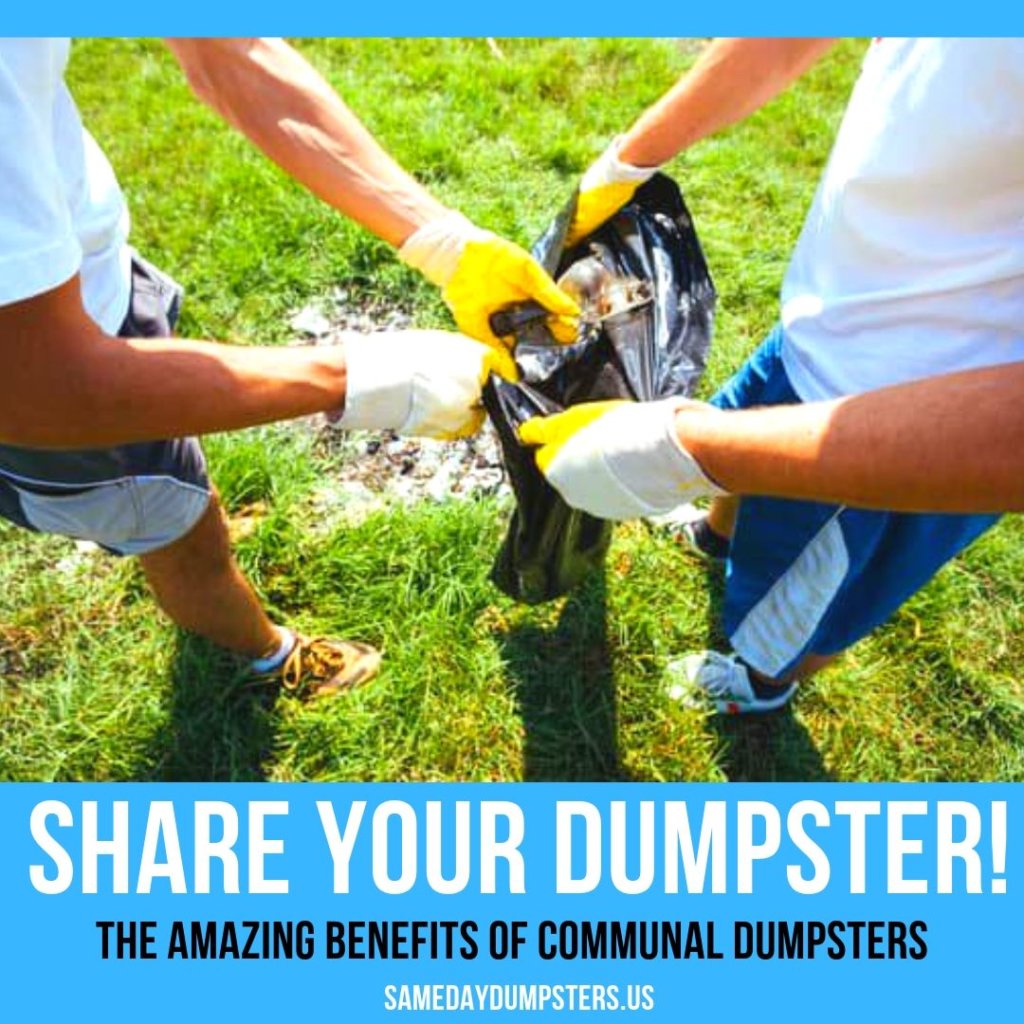 Many times we are asked if it might be okay to share a dumpster rental with a neighbor and the answer is "Of Course!"  Our society has recently seen a boon in combining resources.  What has been a disposable society for so long is finally starting to see that things such as air, water, minerals, space, etc. are finite and should be used in a more conservative way.  With programs such as Lyft and Uber to Airbnb and OpenDoor, we are finding more ways to leave less of a footprint on the earth and come together as a society.
So, why stop with a dumpster rental?
Sharing your dumpster rental is a great way to save money, meet new people and make your rental even more cost efficient for your project.  Whether you share with a neighbor, friend, family member or entire community, simply make sure that your combined debris doesn't exceed the weight limit or overfill lines for your rental.  From making your neighborhood more beautiful and increasing your home's value to building strong connections within your community, there are several great reasons why you should consider sharing a dumpster.
Save Money
It doesn't matter how many people end up using the dumpster, the rental cost is fixed per dumpster.  Instead of 10 people in your neighborhood each renting a dumpster at $300 a pop, you could rent one dumpster collectively and only pay $30 each.  It will all depend on the type of project everyone is doing and how much debris they will have.  If it's a simple clean out, this could work wonders but it might not be the best option for major home improvement projects or repairs.  Have a meeting and assess if sharing one dumpster might be feasible.
Designate one person to pay the rental company and whoever is going to use it can pay their share to them.  Sometimes a Homeowner's Association will even pay for a dumpster rental if it's focused on their sub-division or building.  Communication is important when organizing an endeavor in which multiple people will be using one item.
Neighborhood and Community Events
There are so many activities you can organize by sharing a dumpster rental.  You can host community trash events where everyone can come throw out old items, recycling, etc. or even have a dumpster available for post-event clean up.  The only limit is your imagination!
Block Parties
Spring Cleaning Day (Neighborhood or Community)
Landscaping Day (Neighborhood or Community)
City Fests and Fairs
Sporting Events (Community)
Recycling Events (Community)
Shredding Events – For Paper, Sensitive Documents, Etc. (Community)
Clutter Free Day (Neighborhood or Community)
Clean Up Parks Events
Revitalize Old Neighborhoods
Neighborhood Garden Space
Emergency Storm Clean Up
Donation Days
And Much More!
Whether it's recycling items, dirt and leaves from landscaping projects or general trash clean up of a party or geographic area, there can be many uses in your own neighborhood as well as in the community at large for a shared dumpster rental.  If you have particular recycling materials that need to go to a special facility, arrange it with your dumpster rental company before you book to ensure that the items are disposed of responsibly.
New Friends
It can be hard to meet new people these days.  With the hustle and bustle pace of our lives and complicated schedules, we may not even know the people on our own block.  When you share a dumpster with neighbors, this offers you the opportunity to get to know so many different types of people.  Not only can you reconnect with old acquaintances but it gives you the chance to meet folks that have just moved to the area.
Regardless if you meet life-long friends or not, it's always a good idea to build a solid report with your neighbors in case of emergencies or an instance where you may need help.
To see how Same Day Dumpsters stacks up in the Client Friendly Dumpster category, call us at 630.716.1030 or click here >>> Same Day Friendly!