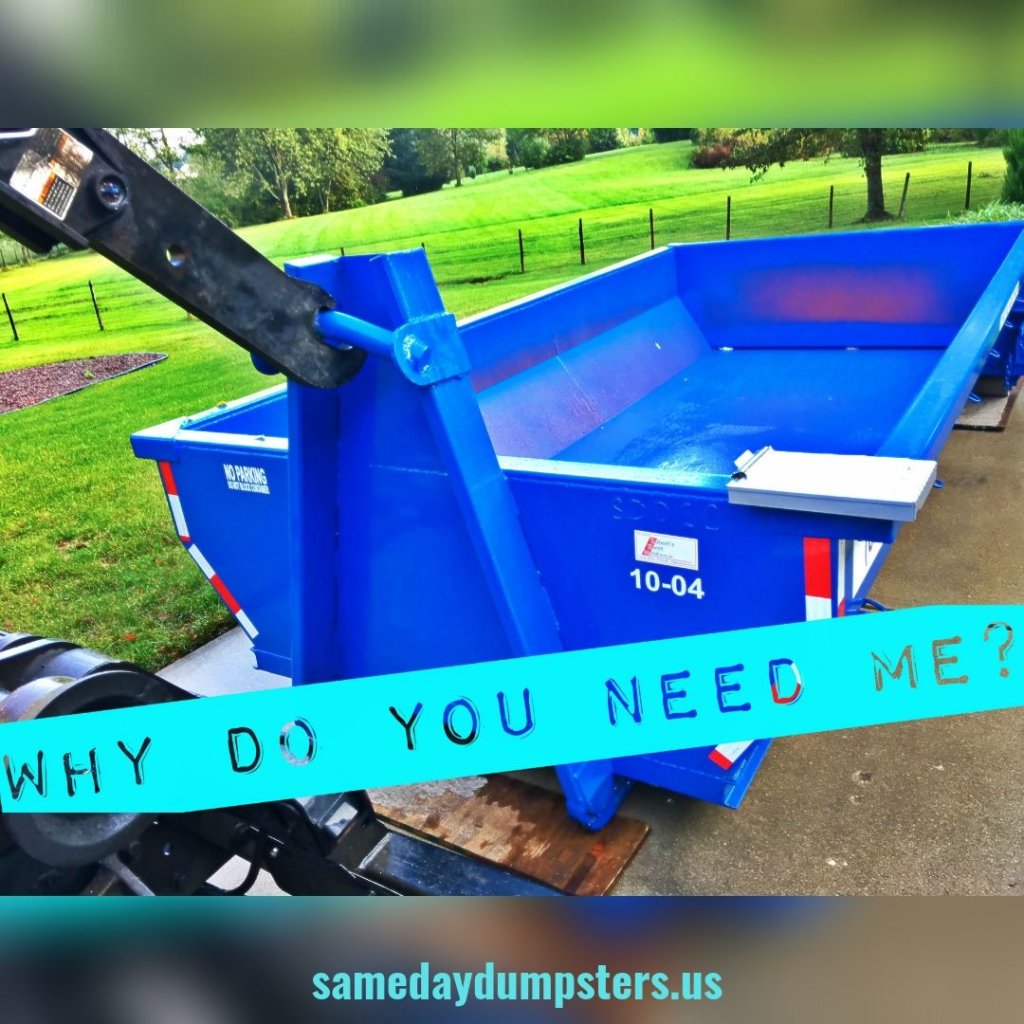 You've seen the ads, you've heard the talk but why on earth should you rent a dumpster?  Aren't those only for building new houses or constructing skyscrapers?  Actually, residential or small commercial folks are just as likely to rent a dumpster as the big boys.  The chances that you might find yourself in need of one are pretty good too.
10 Reasons To Rent A Dumpster
1. Remodeling or Renovations – If that 1963 avocado green wallpaper in your kitchen or your shag carpeting from the height of the disco are starting to grate on your nerves, you might be in need of an upgrade.  Whether you decide to upgrade your fixtures or you do an entire room remodel with new drywall and flooring, you will need to dispose of those items in a small dumpster.
2. Flooding / Emergencies – If your basement floods during torrential storms, your water heater explodes or you end up with a leaking roof, you might find yourself with damaged drywall and personal items.  You may need to eliminate water-logged and ruined materials to prevent mold and bacteria from forming.  In these cases, it is best to rent a dumpster so those potential hazards can be removed and disposed of quickly and efficiently.
3.  Natural Disasters – Whether it's a downed tree due to storms or siding destroyed by hail damage, you may need to remove unexpected debris from your property.  These types of projects are too large for the average waste management company and require a dumpster.
4.  Landscaping – When your house looks amazing but the gnarled shrubs and dead trees on your property do not, you might want to completely change your landscaping.  It's not feasible to put all of those twigs, stones, branches and dirt inside your vehicle for removal and waste management will not take dirt or large piles of landscaping debris.
5.  Prohibited Items – It has been mentioned several times already but your local garbage company can not take just anything.  There are quite a few items that they won't haul away for you.  In those circumstances, a dumpster can carry all of your debris and most all types of materials.
6.  Office Clean Out – Keeping a safe, happy environment for your employees also increases productivity.  If your space is cluttered or in need of new equipment and furniture, you can dispose of all those materials in a dumpster rental.  Filing cabinets, boxes of old files, furniture, fixtures, garbage and junk can all be hauled away.
7.  Spring Cleaning / Junk Removal –  You may have a tenant that left your property a mess or realize that your attic or garage are packed solid with junk.  Spring cleaning and cleaning up rental property are dreaded tasks but being able to eliminate multiple trips to the dump, thrift store or recycling facility can help alleviate that stress.  Your local dumpster rental company can even take a container full of recyclables to the appropriate facility if you ask in advance.
8.  Moving –  Anyone that has moved knows the stress of packing up your entire life and shifting it to another location.  You have lived and collected items on this journey of existence.  Sometimes a move can be made easier by going through all of those old, unused items, getting rid of them and lightening the load.
9.  New Additions / Guests – If you have out of town guests coming in or a kid moving back home and you haven't seen the floor of that guest room in months, you may want to consider a mass clean out.  A new bundle of joy may also cause you to clear a space or consider baby-proofing the entire house.  If you can't store large, hazardous items or donate them, you may want to eliminate them completely before the baby comes.
10.  Events / Parties – If you throw the biggest shindig on the block every year or you decide to host a community event, consider renting a dumpster.  This helps tremendously in post-event clean up.  It makes it easier on volunteers and keeps the space free of debris or discarded booth materials and decorations.  You might even consider throwing a recycling event in your neighborhood and giving families the opportunity to clear space in their homes and help out the environment.  Your dumpster rental company can take the loaded container to an appropriate recycling center.
There are other situations where you might find yourself needing to rent a dumpster besides the few listed above.  With fast delivery, various sizes and very few limitations on what you can dispose of, you may find renting a dumpster to be an adequate solution for your next project or problem.  At least you know you have more options than limited garbage services.
Now that you know some projects you can use it for, you are ready to  book your cheap dumpster rental today!