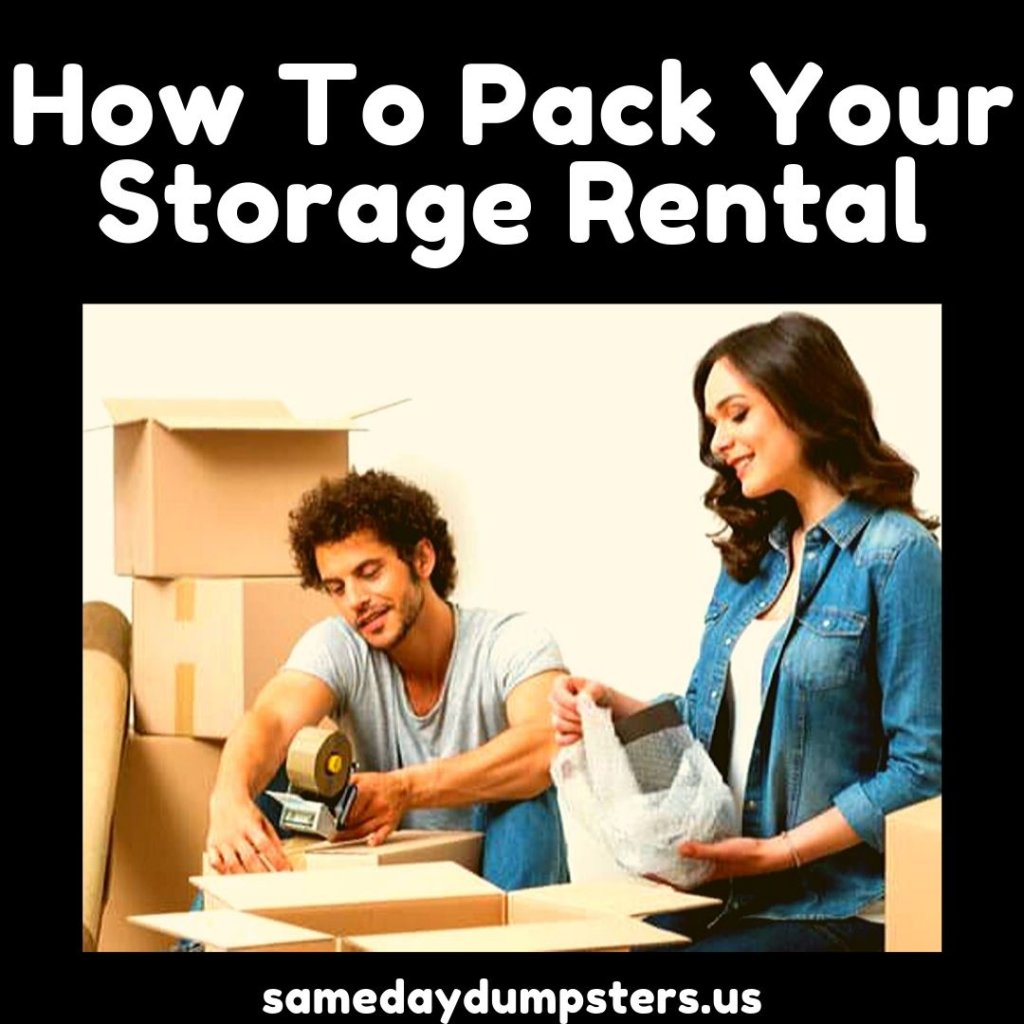 Renting a storage container can be one of the best decisions you make. Saving you time, money and keeping you from becoming overwhelmed are huge benefits to both you and your family.  Once you choose the right option for your project, select the best company and book the rental itself, the real fun begins: packing the space!  It doesn't matter if you rent a portable storage container or a self-storage unit in a facility, how you pack the space is crucial to reducing risks such as infestation, fires or having to search for needed items.
Here are a few quick tips for how to pack that storage space efficiently:
WEIGHT – Always put heavy boxes on the bottom and lighter boxes on top to prevent smashing delicate items or breaking things.
LABEL – Be sure to label all of your boxes/bins so that, at a quick glance, you know what is where and where it should go when you finally unload it.
NEED – If you are storing your items for awhile, place items such as paperwork or seasonal clothing up front and items you will not be using further in the back.  This allows you to grab those necessities easily and without having to unload everything for one item.
STACK – Don't forget that your unit goes up as well.  You can stack items vertically so there isn't such a clutter on ground level.  Consider leaving a small walkway from the front to the back if you think you might need to access other items.
PROTECTION – Taking a few minutes while you pack to thoroughly protect your items will significantly reduce the damage down the road.  Fragile items should be wrapped in packing paper, bubble wrap or soft cloths and then boxed up to reduce the risk of breaking. Furniture should be covered with blankets or moving pads.  Avoid using plastic sheeting to wrap items because these can trap moisture and cause mold or mildew to build up.
PERISHABLES – Never, ever store anything that can spoil or rot, such as food or plants.  This can draw rodents and insects to infest your stuff.
VALUABLES – If possible, avoid storing priceless artifacts in a simple storage unit.  Jewelry, art, heirlooms, etc. might be better in a bank if they are worth that much.  You take a small risk of it getting damaged or stolen if left unattended in a storage container or unit.  While rare, it's better to be safe than sorry.
INSURANCE – Find out if your homeowner's or renter's insurance covers personal property left in storage.  If not, it should be possible to add it on or purchase a separate plan through your insurance company.  Many storage companies offer insurance plans as well.  This is great to have in case something out of the ordinary happens.
BATTERIES – If you are going to be storing items for longer than a year or so, remove batteries from all items that have them.  This prevents acid leakage from batteries exploding all over your items.
PLASTIC BINS – When storing in a facility that has a sprinkler system, consider storing everything in plastic bins over cardboard.  While it does cost a bit more money, it can save your items from water damage if the system ever kicks on.  When you are removing your items from storage for good, you can keep those bins for organization around your home, give them to family and friends or sell them online if they are in great shape.
By taking a few extra minutes to efficiently pack your storage container and items, you can save yourself a heap of headaches and stress down the line!
To find out how our new storage container can help you,  give us a call at 630.716.1030 or click here >>> Same Day Storage Solutions!