This Violation Against Town Codes Could Have Been Prevented If The Owner Had Rented A Dumpster and Had That Trash Hauled Away.  Code Enforcement Departments for Cities and Municipalities Have To Keep A Standard for Their Neighborhoods To Keep Citizens Comfortable and Safe.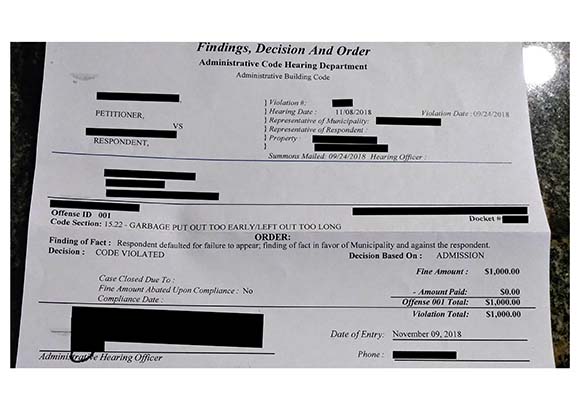 A Dumpster Rental Is A Considerably Cheaper Alternative to Paying Violation Fees or Potentially Accruing Higher Consequences.  This City Has a ZERO TOLERANCE Policy When It Comes To Garbage and the Thousand Dollar Price Tag Proves It.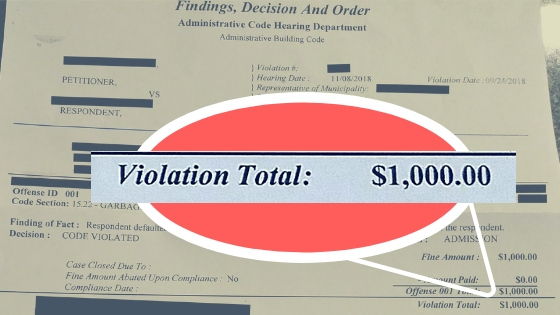 Many Folks Assume They Can Ignore A Citation From Their Village or Town Because What's The Worst That Could Happen?  Not Only Does Your Fine Increase Significantly, Some Towns Will Pursue Legal Action Against You That Includes a Potential Jail Sentence.  Always Check With Your Village or Town Hall and Code Enforcement Officers to Find a Way to Work Out a Payment Plan or Begin Restitution in Some Capacity.

If You Can, Have Friends or Family Members With Access to Trucks Help You Haul Your Trash Away So You Don't Receive A Fine Like The Owner Above.  You Can Also Find Some Cheap Labor or Scrappers on Craigslist to Help Dispose of Debris.  In Any Case, You Can Call Your Local Same Day Dumpster Rental Company and Have A Dumpster Brought Out To You That Day and Hauled Away Quickly and Efficiently.  You Can Avoid Opening Your Mailbox and Finding One of These Fun Surprises Waiting For You.