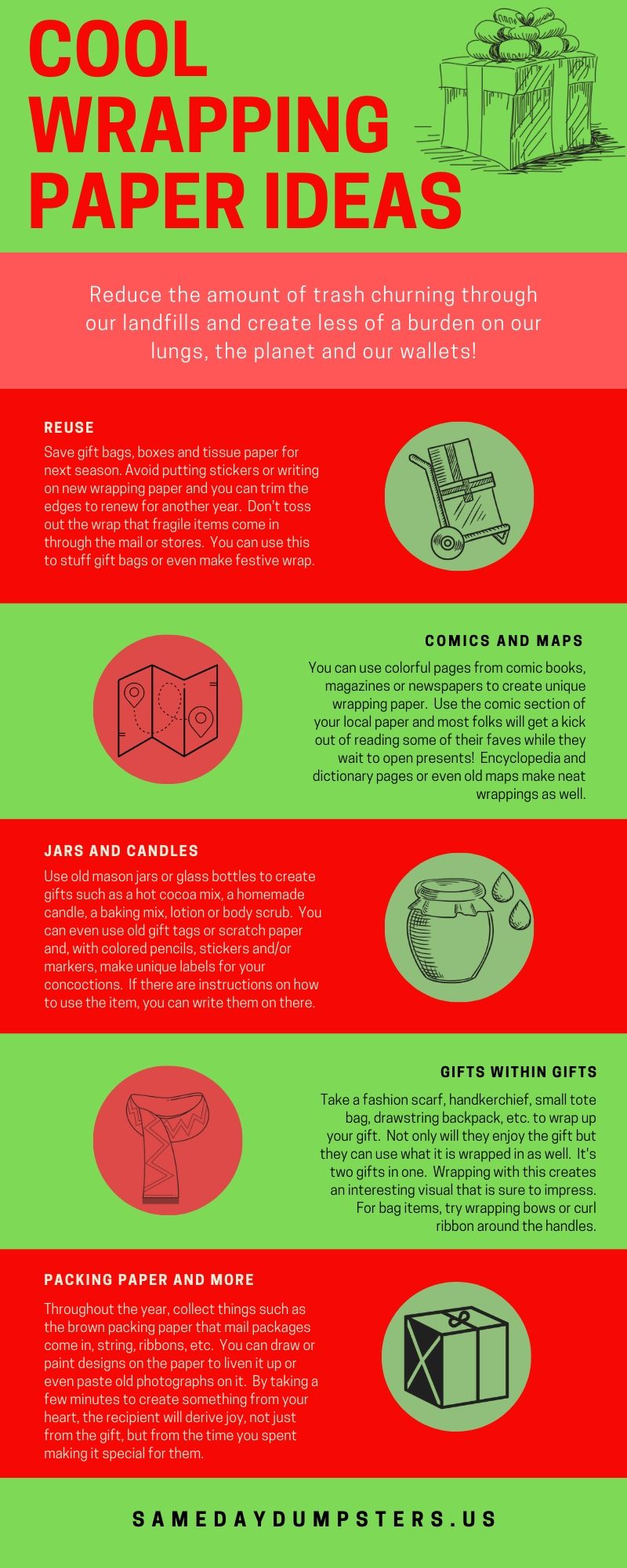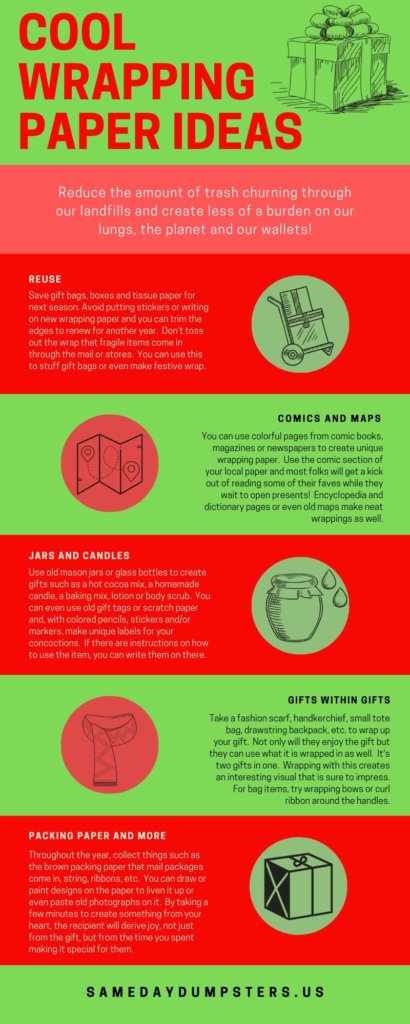 Cool Wrapping Paper Ideas
Reduce the amount of trash churning through our landfills and create less of a burden on our lungs, the planet and our wallets!
REUSE
Save gift bags, boxes and tissue paper for next season. Avoid putting stickers or writing on new wrapping paper and you can trim the edges to renew for another year. Don't toss out the wrap that fragile items come in through the mail or stores. You can use this to stuff gift bags or even make festive wrap.
COMICS AND MAPS
You can use colorful pages from comic books, magazines or newspapers to create unique wrapping paper. Use the comic section of your local paper and most folks will get a kick out of reading some of their faves while they wait to open presents! Encyclopedia and dictionary pages or even old maps make neat wrappings as well.
JARS AND CANDLES
Use old mason jars or glass bottles to create gifts such as a hot cocoa mix, a homemade candle, a baking mix, lotion or body scrub. You can even use old gift tags or scratch paper and, with colored pencils, stickers and/or markers, make unique labels for your concoctions. If there are instructions on how to use the item, you can write them on there.
GIFTS WITHIN GIFTS
Take a fashion scarf, handkerchief, small tote bag, drawstring backpack, etc. to wrap up your gift. Not only will they enjoy the gift but they can use what it is wrapped in as well. It's two gifts in one. Wrapping with this creates an interesting visual that is sure to impress. For bag items, try wrapping bows or curl ribbon around the handles.
PACKING PAPER AND MORE
Throughout the year, collect things such as the brown packing paper that mail packages come in, string, ribbons, etc. You can draw or paint designs on the paper to liven it up or even paste old photographs on it. By taking a few minutes to create something from your heart, the recipient will derive joy, not just from the gift, but from the time you spent making it special for them.
For Your Convenience, We Have 10 Locations To Serve All Of Your Dumpster Rental Needs!
Dumpsters in Elk Grove Village
Bolingbrook Same Day Dumpster Rentals
Dumpsters for Rent in Hickory Hills
Dumpster Rentals in Schaumburg