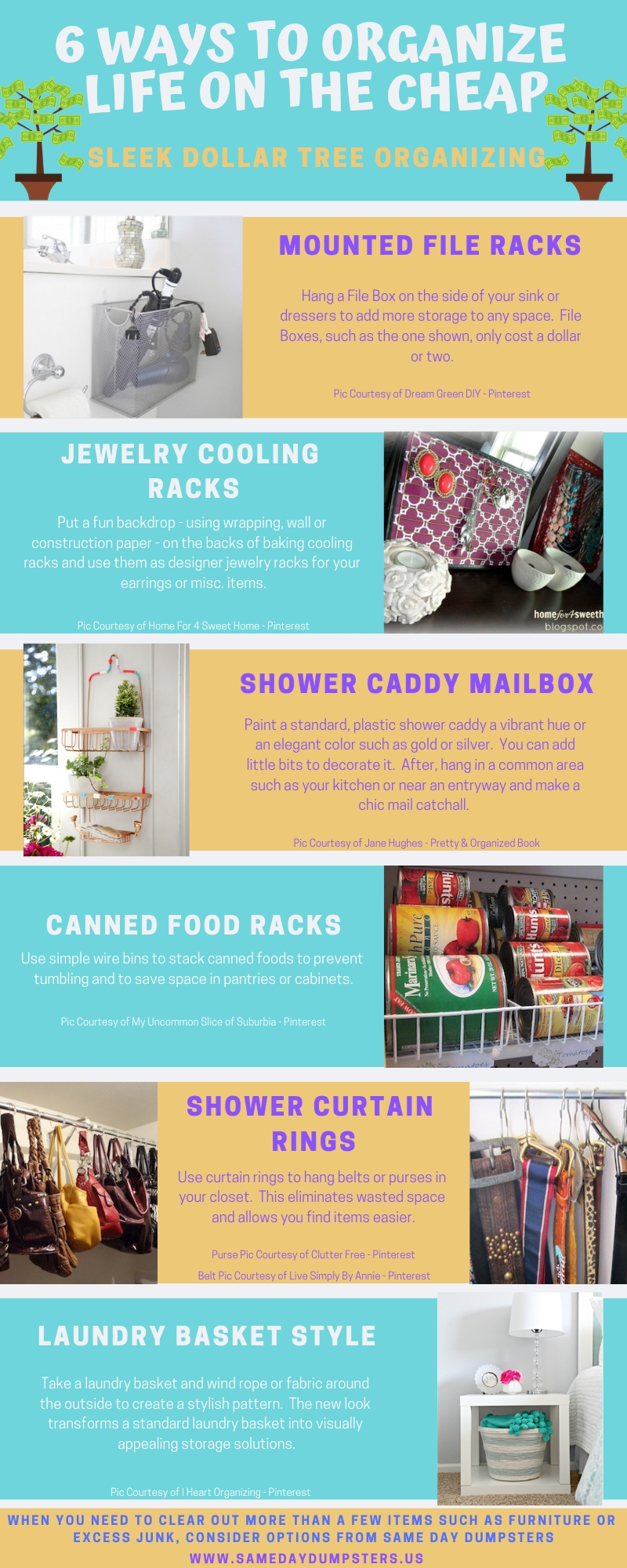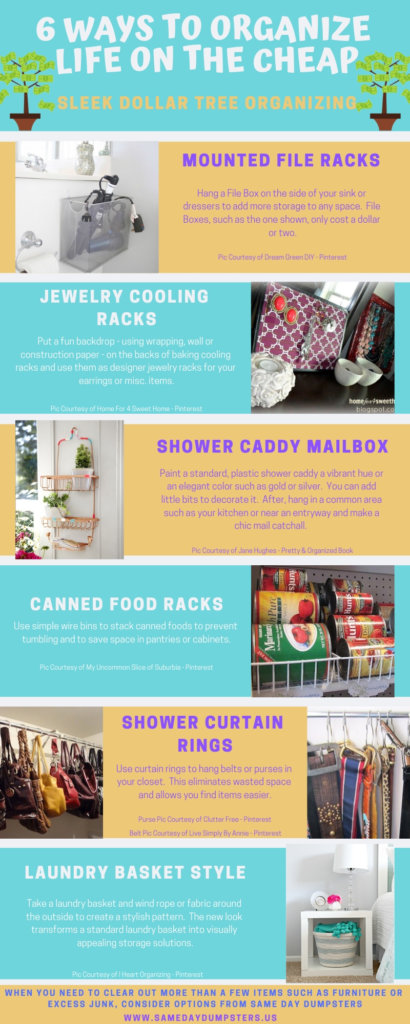 6 Ways To Organize Life On The Cheap
Sleek Dollar Tree Organizing
MOUNTED FILE RACKS
Hang a File Box on the side of your sink or dressers to add more storage to any space.  File Boxes, such as the one shown, only cost a dollar or two.
Pic Courtesy of Dream Green DIY – Pinterest
JEWELRY COOLING RACKS
Put a fun backdrop – using wrapping, wall or construction paper – on the backs of baking cooling racks and use them as designer jewelry racks for your earrings, necklaces or misc. items.
Pic Courtesy of Home For 4 Sweet Home – Pinterest
SHOWER CADDY MAILBOX
Paint a standard, plastic shower caddy a vibrant hue or an elegant color such as gold or silver.  You can add little bits to decorate it.  After, hang in a common area such as your kitchen or near an entryway and make a chic mail catchall.
Pic Courtesy of Jane Hughes – Pretty & Organized Book on Amazon
CANNED FOOD RACKS
Use simple wire bins to stack canned foods to prevent tumbling and to save space in pantries or cabinets.
Pic Courtesy of My Uncommon Slice of Suburbia – Pinterest
SHOWER CURTAIN RINGS
Use curtain rings to hang belts or purses in your closet.  This eliminates wasted space and allows you to find items easier.
Purse Pic Courtesy of Clutter Free – Pinterest
Belt Pic Courtesy of Live Simply By Annie – Pinterest
LAUNDRY BASKET STYLE
Take a laundry basket and wind rope or fabric around the outside to create a stylish pattern.  The new look transforms a standard laundry basket into visually appealing storage solutions.
Pic Courtesy of I Heart Organizing – Pinterest
When You Need To Clear Out More Than A Few Items Such As Furniture Or Excess Junk, Consider Options From Same Day Dumpsters.  We Have 6 Convenient Locations.
Dumpsters in Elk Grove Village
Bolingbrook Same Day Dumpster Rentals