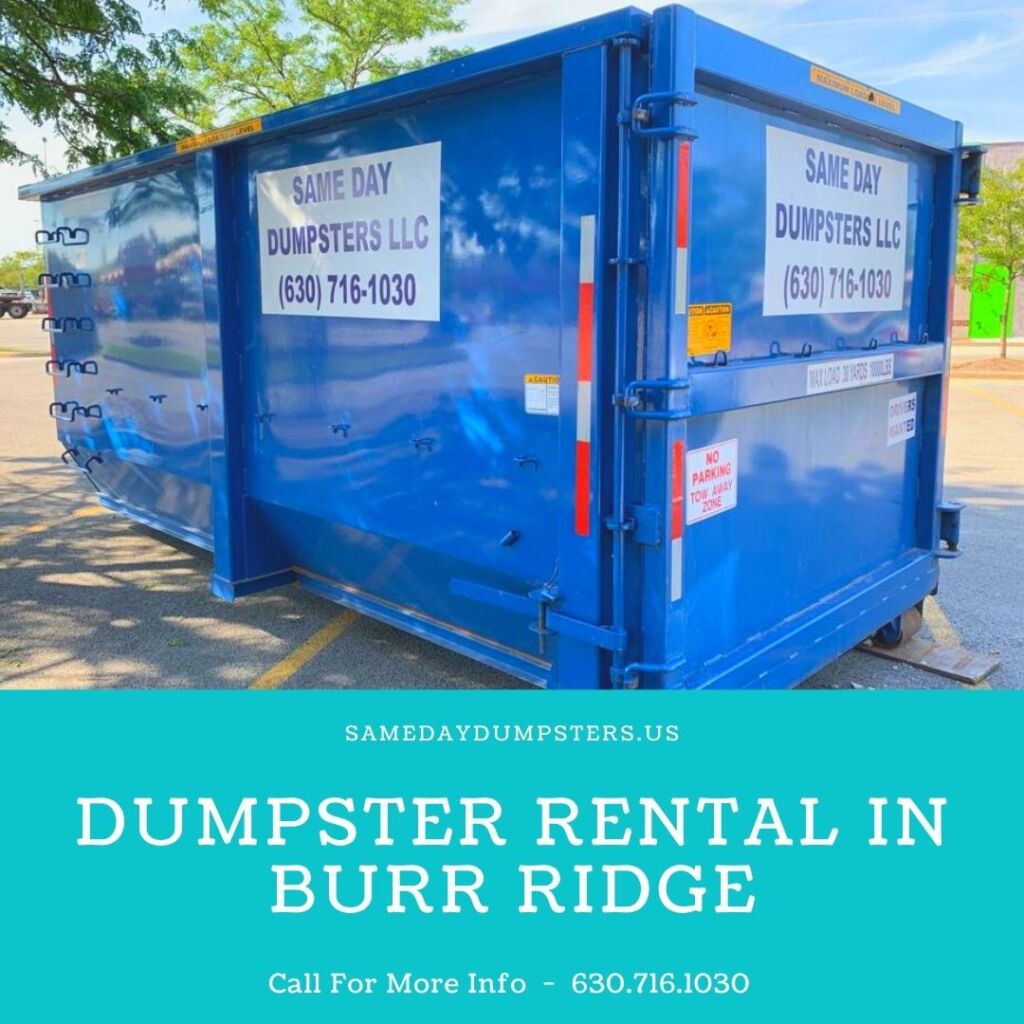 When it comes to renting dumpsters in Burr Ridge, we provide fast, same day delivery and competitive prices.  Our Same Day Dumpsters staff focus on providing exceptional service and high quality dumpsters for both commercial or residential needs.  Whether you're a contractor looking for a dumpster for a kitchen remodel or a homeowner needing a trusty blue box to quickly clean up damage from a flooded basement, we've got your back.  When you need a dumpster rental in Burr Ridge, don't settle for less than a Same Day Dumpster.
What Size Dumpster Do You Need?
We have a wide variety of dumpster sizes to fulfill any of your project needs.  With 5, 10, 15, 20, 30 and 40 yard capacity dumpsters available you can tackle any job that comes your way.  In case you aren't sure what size you need, take a look at our quick guide below or speak to our dumpster specialist who can help you determine the perfect capacity for your specific project.
5 Yard – Perfect for small projects like cleaning out a room, garage or simple landscaping maintenance. (Think up to 2,000 pounds)
10 Yard – Great for yard and disaster clean ups, small remodeling jobs and 15 Square roofing jobs. (Think up to 3,000 pounds)
15 Yard – This would be your average renovation, new kitchen cabinets, several room clean out, small concrete jobs and larger landscaping, such as tree removal.  (Think up to 4,000 pounds)
20 Yard – A typical dumpster rental size which is great for full room remodels, whole house clean outs, deck or floor removals and 25 to 30 Square roofing jobs.  (Think up to 6,000 pounds)
30 Yard – This gigantic box is perfect for demolitions, new construction builds, commercial and industrial projects, commercial concrete jobs and raw material loads.  (Think up to 8,000 pounds)
40 Yard – This behemoth is for the largest of jobs like new construction builds, business remodels, demolitions, large commercial roofing gigs or large concrete jobs.  (Think up to 10,000 pounds)
Not only do we offer dumpster rentals in Burr Ridge but we serve the entire Chicagoland area.  We pride ourselves on putting the customer first.  No hassle, no headaches – just quality dumpsters when and where you need them.  No automated systems, no bots – you speak to a live person in our office.  When it comes to dumpster rentals in Burr Ridge and the surrounding areas, see for yourself why customers continue to choose us project after project.
To speak with our Burr Ridge Same Day Dumpsters Rental specialists about booking a dumpster, call 630.716.1030 today!