The Same Day Dumpsters 15 Yard Commercial and Residential Dumpster Review…
How Big Is A 15 Yard Dumpster?
A 15 yard dumpster holds 15 cubic yards of material, or a 2 – 3 ton weight limit which is 4,000 to 6,000 pounds.  This would be about 4 1/2 to 5 pick up truck loads, depending on how you filled the dumpster and stacked debris.  Keep in mind that heavier materials may not take up too much space but might be heavy enough to drastically increase your weight capacity.  Make it a general rule for all dumpsters that if you have heavy debris, you will likely only be able to fill up to the half-way or three quarters line.
15 yard dumpsters are perfect for both residential and commercial projects.  This is a great size if you find yourself with a job that puts out a little more than a 10 yard can accommodate safely but doesn't have nearly enough to fill a 20 yard.  Always estimate your debris prior in order to gauge the best size needed.  Your local dumpster rental company can help you figure this out if you let them know what your project is and what materials you expect to dispose of.
How Much Does A 15 Yard Dumpster Rental Cost?
A 15 yard dumpster can run anywhere from $250 to $600, depending on the region in which you live and the dumpster services themselves.  A standard price within most of the United States is close to $400.  Same Day Dumpsters offers a 15 yard dumpster rental for $300 dollars.  The rental period is 10 days.  Always call around to several dumpster rental companies for pricing and don't be afraid to ask if they offer discounts.  Stick with small, locally owned dumpster companies because they are more likely to cut you a better deal.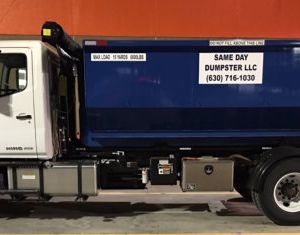 What Kind of Projects Can A 15 Yard Dumpster Typically Handle?
A 15 yard dumpster can be used for most residential and commercial project types.  Here are a few examples of the projects a dumpster of this size can accommodate successfully:
15 Yard Residential Dumpster
Multiple Room Remodels and Installing New Kitchen Cabinets
One and a Half Car Garage Clean Outs
Attic, Bedrooms and Basement Clean Outs
Removing Walls, Flooring and Carpets From Several Rooms
Removing Larger Yard Debris
15 Yard Commercial Dumpster
30 to 35 Square Roofing Job
Medium to Large Porch Removal
Large Concrete Removal and Repair Jobs
Cutting Down Trees and Medium to Large Landscaping
Almost All Outdoor Projects – Fences, Sheds, Sod Removal, Etc.
Construction Clean Up And Material Holds
This is not every job a 15 yard dumpster can handle but will give you a better picture of what you might be able to tackle with a rental this size.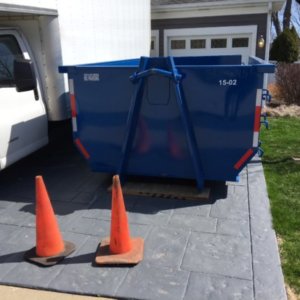 How Do I Know If I Need A 15 Yard Dumpster?
A 15 yard dumpster is essential for those projects that produce slightly more than you can cram into a 10 yard.  Sometimes you only need that little bit of extra room but jumping to a 20 yard can blow your budget or be just too big for the space you've designated on your property.  It's better to jump to a 15 yard instead of cramming a 10 yard and then trying to stuff excess debris into numerous garbage cans and hoping your waste management company won't mind.  Sometimes they will refuse to pick certain debris up and that can result in you incurring a fine from your village.
The first thing you should do before you book a dumpster is to ask the dumpster rental service about weight limits and restricted materials.  There are certain things that are prohibited from being tossed into a dumpster rental.  Your dumpster company should be able to furnish you a list of banned items and help you estimate your debris more efficiently for the right dumpster size your project actually needs.
Extra Dumpster Rental Tips:
Find A Dumpster Rental Company Near You That Offers 15 Yard Dumpsters
Not every dumpster company offers 15 yard rentals because it is an in-between size.  Do your research and call several companies in the area to find out who carries what and for how much.  Don't be afraid to inquire about military, senior or organization discounts.  You won't know if you don't ask.  If you are a contractor and plan on using a dumpster company on an on-going basis, ask them if they offer any special contractor pricing or discounts for renting multiple dumpsters.  Most independent and locally owned businesses are flexible and will negotiate with you.