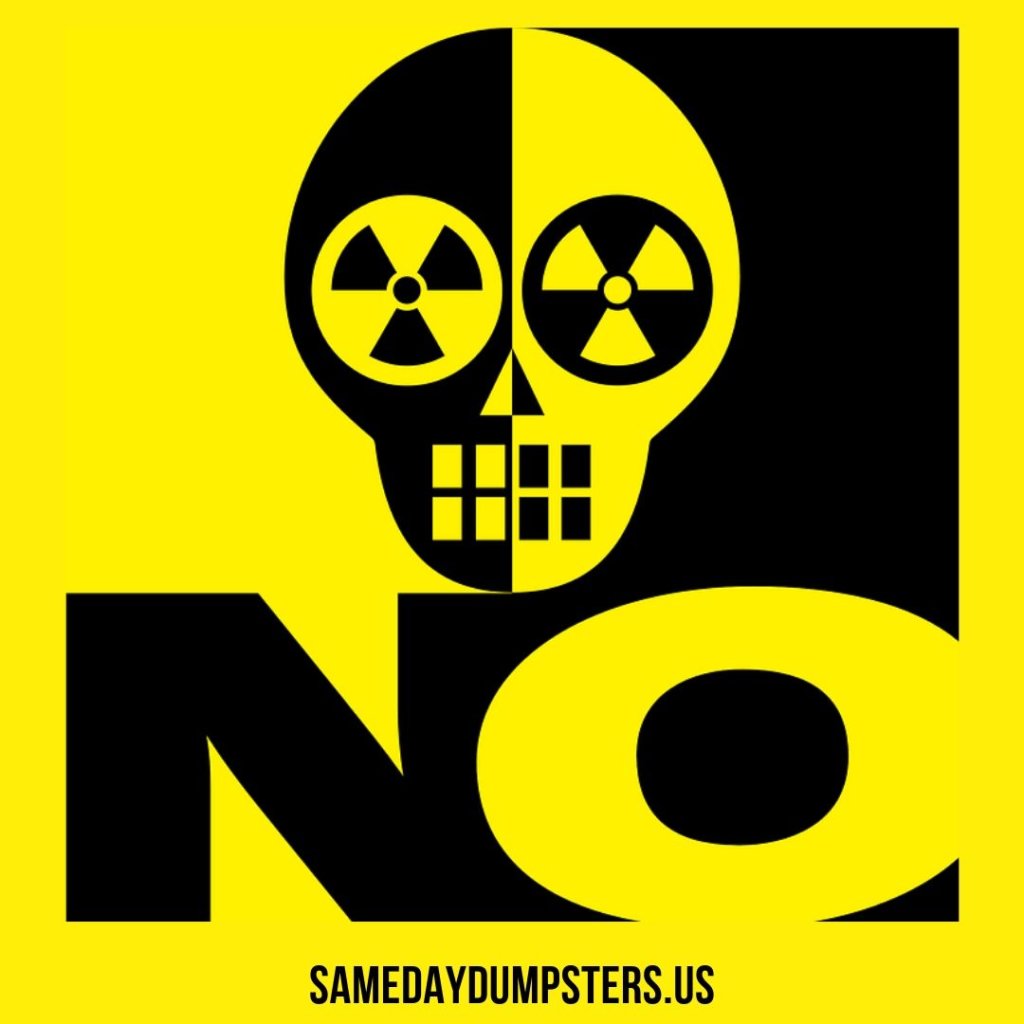 Most people view dumpster rentals as the black hole for all materials ever created on earth.  That isn't the case.  You can not put just anything into a dumpster that you rent.  While the idea of finally clearing that cluttered basement or remodeling that avocado green 1960's bathroom sounds like a dream come true, you have to be careful what you pack in that waste container.
So, What Isn't Allowed Inside A Typical Dumpster Rental?
Hazardous waste for any dumpster rental company near you is always going to be the following:
Electronics and Appliances – Televisions, Monitors, Radios, Computers, Fridges, Microwaves – you name it.  This is a huge no-no.  Many towns have recycling programs to handle items of this nature.
Paints, Solvents and Flammable Liquids – These liquids have chemicals that could potentially contaminate water sources and flammables, you guessed it, can easily catch on fire.  This includes propane tanks and aerosol cans.
Automotive Fluids – Oil, coolant, transmission fluid, anti-freeze, lubricating and hydraulic oils – these are all terrible on the environment and can cause harm to people.
Pesticides, Cleaning Chemicals and Herbicides – While it may make your lawn look good, keep insects at bay or keep your house sparkling, most of these chemicals are harmful to animals, people and the environment.  They should be disposed of properly.
Batteries, Asbestos and Radioactive Materials – Most batteries are no longer made with as much mercury but they are still not to be thrown away in dumpsters.  Asbestos is easily spread in the air and needs to be handled carefully by a crew who knows how to properly dispose of such materials.
As a General Rule, you shouldn't put any liquids inside a dumpster rental.
How Do I Dispose Of These Properly?
You can contact your township or county hazardous waste department and ask them if they have a drop off zoned for these items or if they have a crew that handles it specifically.  A dumpster rental service near you, or a same day dumpsters company, can give you information on how to deal with these items or where to take them.  Some dumpster rental companies will even take things such as tires, mattresses or appliances in their dumpsters for an additional fee.  When in doubt, simply ask them for more information.
Now that you know what to pack into it, you are ready to  book your cheap dumpster rental today!