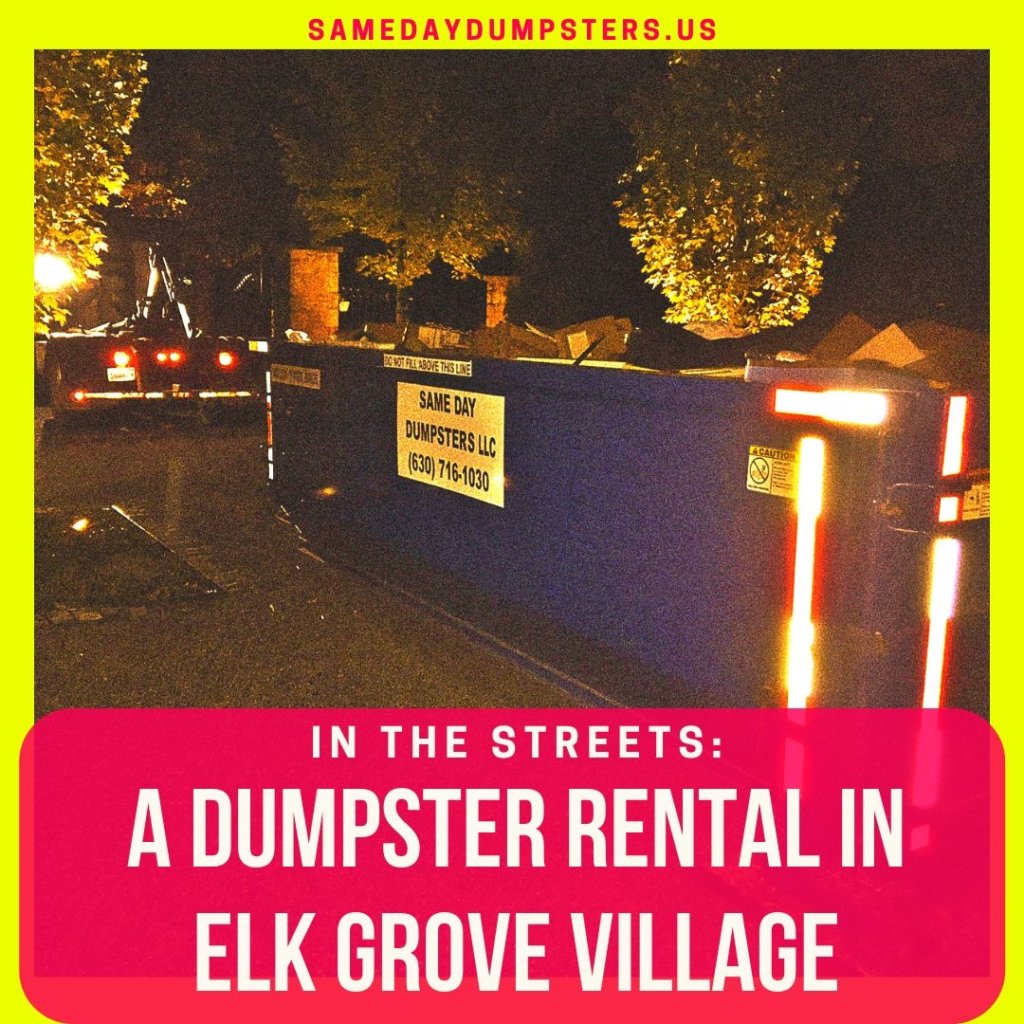 In The Streets: A Dumpster Rental in Elk Grove Village
Our "In The Streets" segment finds one of our trusty blue dumpsters in the suburb of Elk Grove Village.  Laura Contorno sent us this pic showing us the aftermath of her office clean out.  Her financial firm had moved to the northern suburbs and she needed her old space cleaned out prior to new tenants moving in.  With strict requirements set by the building for dumpster rentals, Miss Contorno had a short amount of time in which she could remove debris and decided to give us a call.
According to Miss Contorno, the building has a small parking area and only permits dumpsters after business hours.  With only a single night to accomplish this clean out, she hired a few helping hands off of Craigslist to empty out her old office and fill up the 15 yard dumpster rental.  With the majority of debris being shredded documents, cardboard boxes and office materials/furniture, a large quantity of this load was able to be recycled responsibly.  Our Same Day Dumpster Driver was able to haul this full container away after a few short hours of delivering it.
Miss Contorno was relieved that the entire endeavor was completed swiftly and without complications so she can move on, stress-free, to her new location and continue to grow her business.  She had discovered our company from a friend who has used our services in the past.  Due to the timeline, she contacted our office to see if we could manage her situation.  Not only were we happy to accommodate her needs, our Driver even gave the hired crew some tips on how to pack the dumpster more efficiently to fit the entire load.
We thank Laura for sharing her story and snapping us this fantastic picture!  We love to see what our customers do with the dumpsters and hear their stories.  There are so many different reasons to rent a dumpster and it fascinates us where ours have gone and what they have helped accomplish.  It was a pleasure to help out in Elk Grove Village and we look forward to continuing to serve the Chicago suburbs.  Don't forget, if you see our trusty blue dumpster – say hi!
We LOVE to hear what projects you are using a Same Day Dumpster for so send us a photo!
Would you like to submit a photo for your chance to be featured in our "In The Streets" series?  Please leave a comment below or use our contact form to reach us and let us know!
If you are ready to tackle your next big project and need a dumpster rental in Elk Grove Village, find out how we can be of service to you!