Toggle title
Toggle content goes here, click edit button to change this text.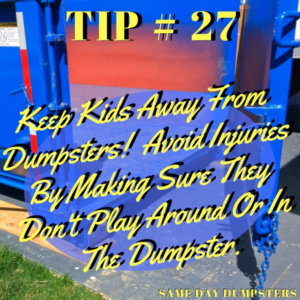 Keep Kids Away From Dumpsters!  Avoid Injuries By Making Sure They Don't Play Around Or In The Dumpster.
Children have a tendency to let their imaginations run wild and embark on all sorts of adventures.  A dumpster rental might not sound appealing to an adult but to a kid it could be a secret fortress or a castle.  It even provides a large enough structure to play tag around or try and use for cover during a round of hide-and-seek.  The bottom line is that this new addition to their home environment can cause their curiosity to override their sense of caution.
Kids could cut or injury themselves on the debris tossed within or on the bin itself.  A door hinge or the edge of the container might seem harmless but could potentially be a significant danger.  There may even be hazardous materials thrown inside that could cause contamination and sickness or injury.  There is always the possibility that a child could be crushed by the weight of the debris if it shifts or if the demolition crew doesn't realize the child is within the dumpster.  Warn your own children of the dangers presented by a dumpster rental and caution any neighborhood children that may around the vicinity.
Knowing the risks and being mindful could keep a child safe or even save their life.
Take a look at these other potential risks that you should be aware of when renting and utilizing a dumpster.