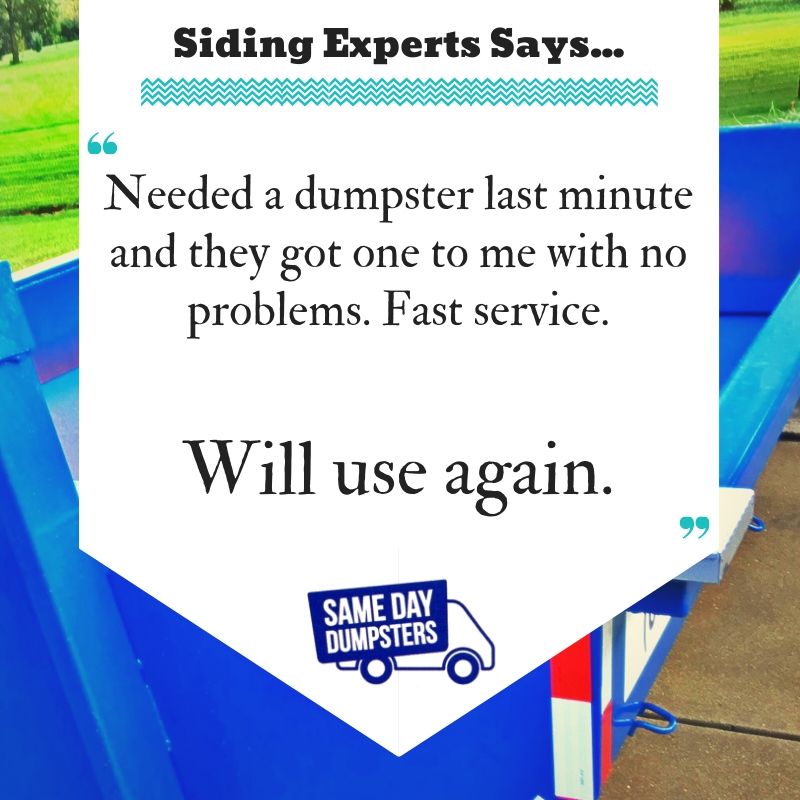 "Needed a dumpster last minute and they got one to me with no problems.  Fast service.  Will use again." – Siding Experts
Fast Service Whenever You Need It
Whether you are a business that had deadlines or a homeowner that has a limited amount of time to complete a project, you need a service that understands speed, dependability and professionalism go hand in hand.
Your time is valuable and you shouldn't have to wait until a dumpster service decides they can accommodate you.  If you own a business, your customers expect the job be done in a timely, efficient manner and you can't afford to wait on a dumpster.  As a homeowner, you have a million other projects to tackle and have to juggle personal and work priorities to find the availability to complete them.  A service that makes you wait doesn't value your time or your business.
At Same Day Dumpsters, our highest priority is our customers.  We know how hectic schedules can get and how important deadlines truly are and strive to ensure quick, reliable service to the Chicagoland area.  This is why we expanded to 8 convenient locations – to access our customers quickly, efficiently and be able to provide a variety of dumpster sizes for any residential, commercial or industrial project.  Our dedicated, experienced staff is laser-focused on providing solutions for all of your dumpster rental needs and showing up when and where you need us.
You and your time are valuable.  Don't settle for a service that doesn't understand that.
A huge thank you to businesses like Siding Experts and all our amazing customers whom we have the pleasure of serving!  With locations in Burr Ridge, Mokena, Elk Grove Village, Hickory Hills, Bolingbrook, Lemont, Naperville and Schaumburg, we are committed to caring for our customers and providing same day delivery throughout the Chicagoland area.  When you see our trusty blue dumpsters on the go, give us a wave!
SAME DAY DUMPSTERS – 630.716.1030
Call For Information Or To Book An Appointment