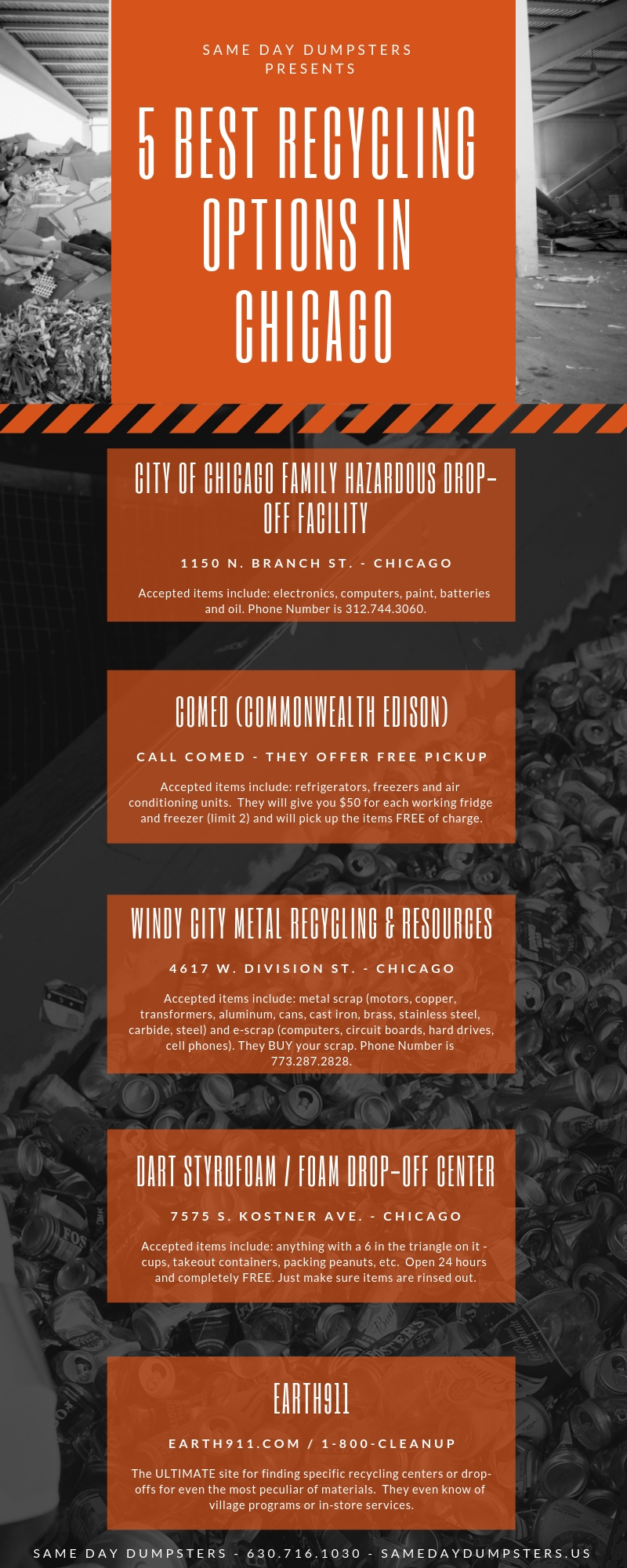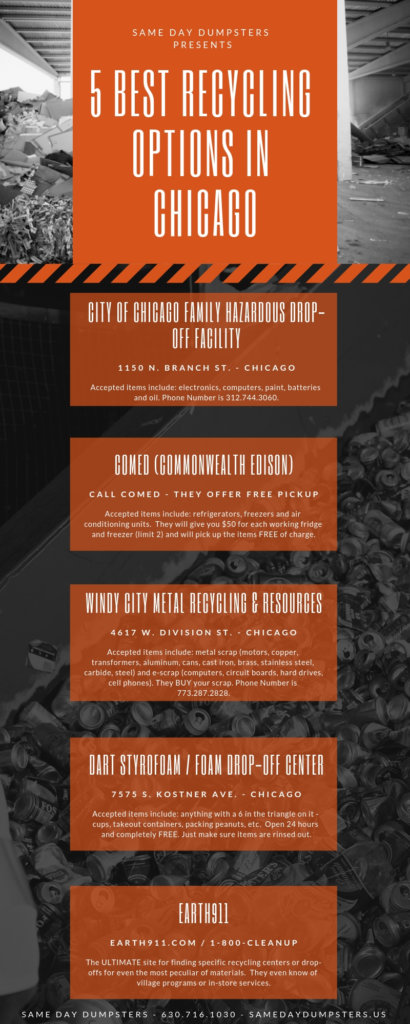 5 Best Recycling Options In Chicago
City of Chicago Family Hazardous Drop-Off Facility
Accepted Items Include: Electronics, Computers, Paint, Batteries and Oil.  Phone Number is 312.744.3060.
1150 N. Branch St. – Chicago
ComEd (Commonwealth Edison)
Accepted Items Include: Refrigerators, Freezers and Air Conditioning Units.  They will give you $50 for each working fridge and freezer (limit 2) and will pick up the items FREE of charge.
Call ComEd – They Offer FREE Pickup
Windy City Metal Recycling & Resources
Accepted Items Include: metal scrap (motors, copper, transformers, aluminum, cans, cast iron, brass, stainless steel, carbide, steel) and e-scrap (computers, circuit boards, hard drives, cell phones).  They BUY your scrap.  Phone Number is 773.287.2828.
4617 W. Division St. – Chicago
Dart Styrofoam/Foam Drop-Off Center
Accepted Items Include: anything with a 6 in the triangle on it – cups, takeout containers, packing peanuts, etc.  Open 24 hours and completely FREE.  Just make sure items are rinsed out.
7575 S. Kostner Ave – Chicago
Earth911
The ULTIMATE site for finding specific recycling centers or drop-offs for even the most peculiar of materials.  They even know of village programs or in-store services.
Earth911.com / 1-800-CLEANUP
For All Other Items You Can Discard Normally, Consider Options From Same Day Dumpsters.  We Have 7 Convenient Locations.
Dumpsters in Elk Grove Village
Bolingbrook Same Day Dumpster Rentals
Dumpsters for Rent in Hickory Hills