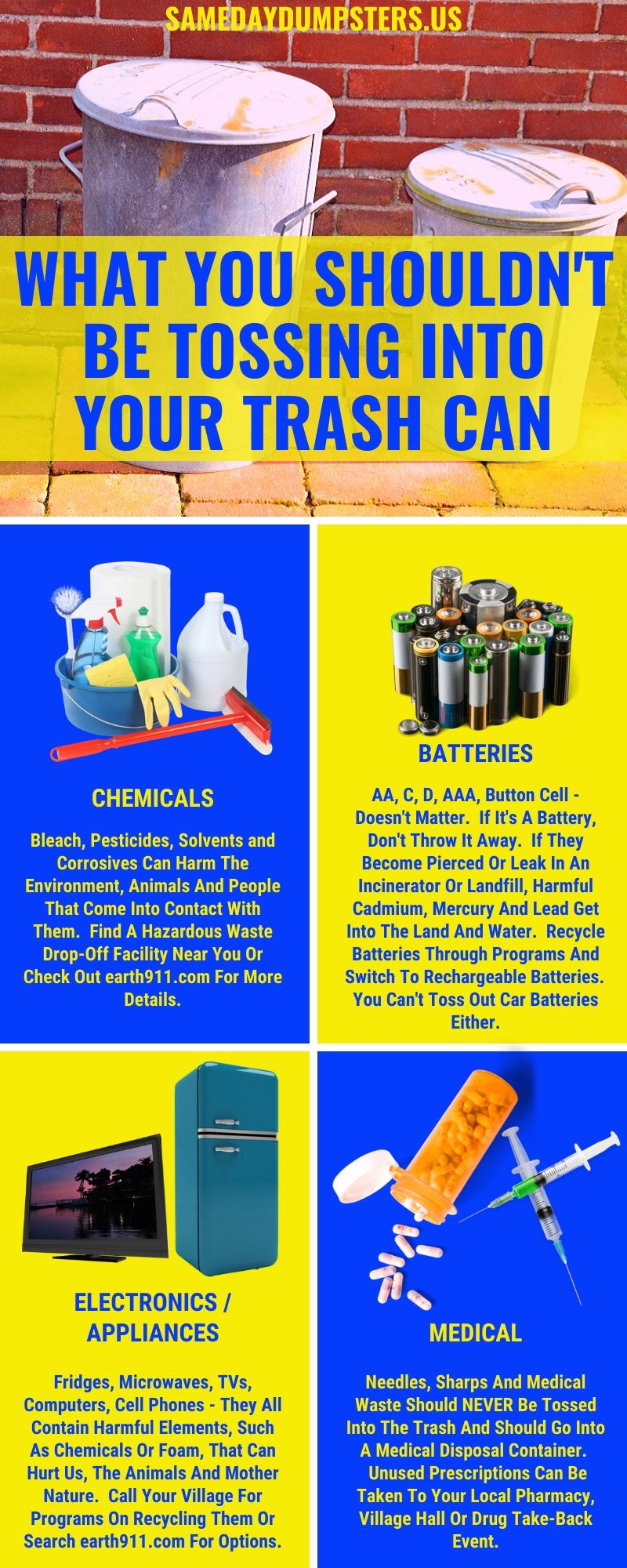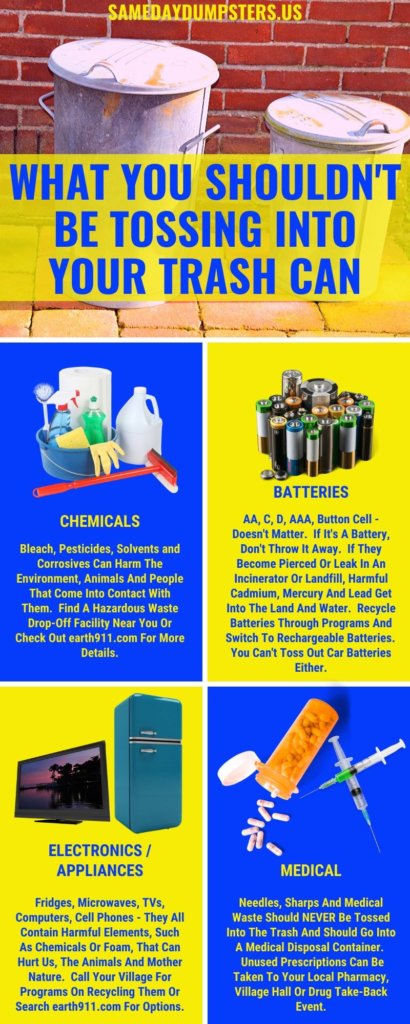 What You Shouldn't Be Tossing Into Your Trash Can
We are all guilty of throwing some of these in the normal trash but they can be hazardous to humans, animals and the environment.  Whether they contain chemicals, poisons or infectious disease, properly disposing of such items is the only way to keep them from leaking into our water or saturating our soil.  To find the right recycling program for your item, check with your local village or town hall.  Many times they can direct you to a program they host or a third party who can take the items.  You can also check out earth911.com for any available options near you.
CHEMICALS
Bleach, Pesticides, Solvents and Corrosives Can Harm The Environment, Animals And People That Come Into Contact With Them. Find A Hazardous Waste Drop-Off Facility Near You Or Check Out earth911.com For More Details.
BATTERIES
AA, C, D, AAA, Button Cell – Doesn't Matter. If It's A Battery, Don't Throw It Away. If They Become Pierced Or Leak In An Incinerator Or Landfill, Harmful Cadmium, Mercury And Lead Get Into The Land And Water. Recycle Batteries Through Programs And Switch To Rechargeable Batteries. You Can't Toss Out Car Batteries Either.
ELECTRONICS / APPLIANCES
Fridges, Microwaves, TVs, Computers, Cell Phones – They All Contain Harmful Elements, Such As Chemicals Or Foam, That Can Hurt Us, The Animals And Mother Nature. Call Your Village For Programs On Recycling Them Or Search earth911.com For Options.
MEDICAL
Needles, Sharps And Medical Waste Should NEVER Be Tossed Into The Trash And Should Go Into A Medical Disposal Container. Unused Prescriptions Can Be Taken To Your Local Pharmacy, Village Hall Or Drug Take-Back Event.
For Your Convenience, We Have 10 Locations To Serve All Of Your Dumpster Rental Needs!
Dumpsters in Elk Grove Village
Bolingbrook Same Day Dumpster Rentals
Dumpsters for Rent in Hickory Hills
Dumpster Rentals in Schaumburg