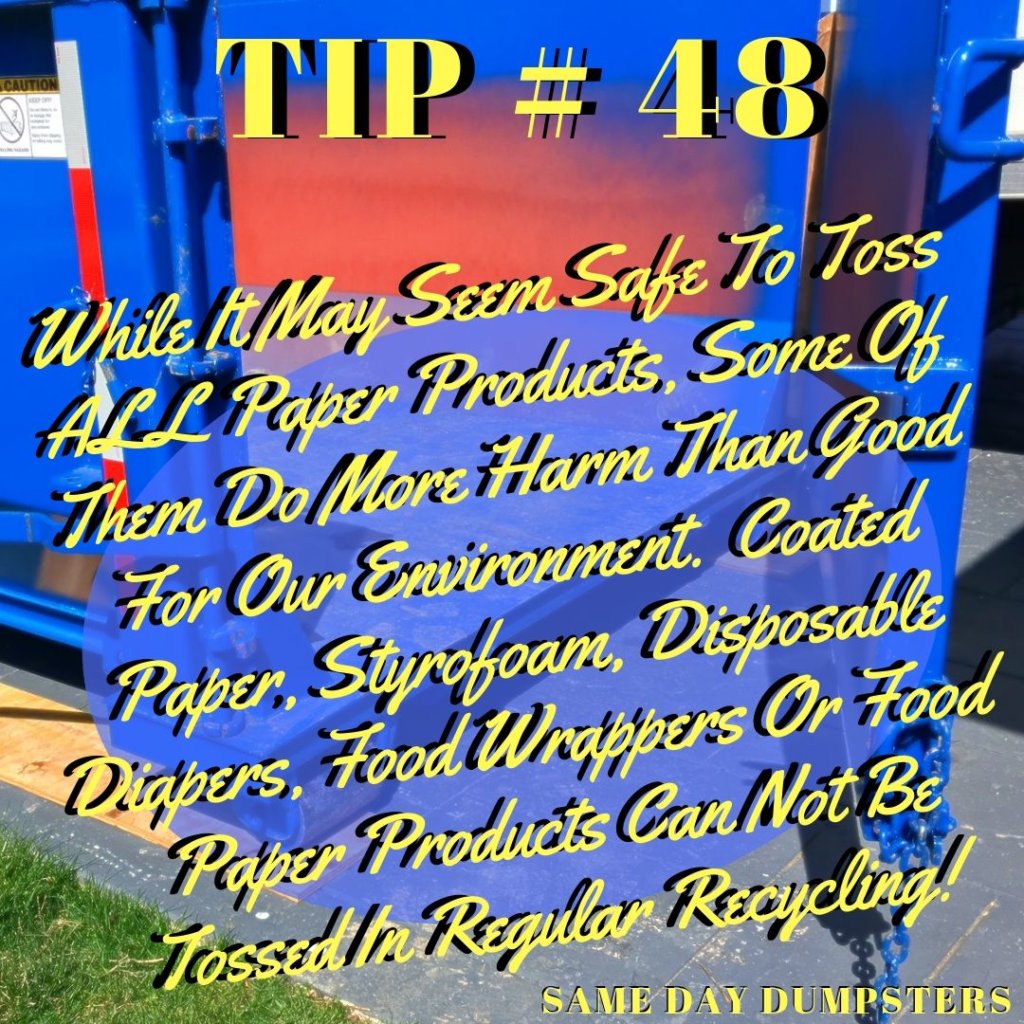 While It May Seem Safe To Toss ALL Paper Products, Some Of Them Do More Harm Than Good For Our Environment.  Coated Paper, Styrofoam, Disposable Diapers, Food Wrappers Or Food Paper Products Can Not Be Tossed In Regular Recycling.
Recycling not only keeps the environment clean but reduces energy use and even makes products more affordable in the long run.  It may seem like most everything that falls under paper, glass, etc. can be recycled but the truth is that many companies can not accommodate them or that they can ruin the machinery necessary to implement a program.
These items are actually NOT good for your city recycling bin.  Try using alternative materials or even reusable items when you can.
Coated Paper – Sticker sheets, address or stamp sheets, frozen-food boxes, disposable coffee cups, etc., these items have a waxy type coating on them and can not be recycled.
Styrofoam – Styrofoam cups and containers are actually recyclable but many companies do not accept them because it costs far too much to process them correctly.
Diapers – Disposable or not, the paper and plastic off of these items is a goner.
Food Wrappers – A common misconception is that you can recycle candy wrappers, chip bags and plastic wrap but the coating makes it too hard and plastic wrap can jam the machines.
Food Wasted Paper Products – Anything with food residue on it absolutely can not be recycled.  Pizza boxes, take out containers, napkins – if there is food on it, chuck it into the trash.
Certain items can be recycled but the process to do so lies outside the realm of your simple recycling company.  You will need to check with your village hall or online for special programs or centers that offer responsible disposal of particular items such as:
Plastic Bags – your local supermarket likely has a place where you can bring those piles of plastic shopping bags.  In the future, try to bring more cloth bags to haul your purchases.
Empty Ink Cartridges – places like Staples, Office Depot or your local office supply store has a program to safely recycle ink cartridges.
Household Batteries – certain recycling centers, libraries or village programs offer safe disposal of batteries.
Lightbulbs – home improvement stores such as Home Depot, Menard's or Lowe's can recycle those older lightbulbs for you.
Clothes – donate old clothes, shoes, appliances, etc. to your local thrift store or charity, such as Salvation Army, Goodwill and Savers.