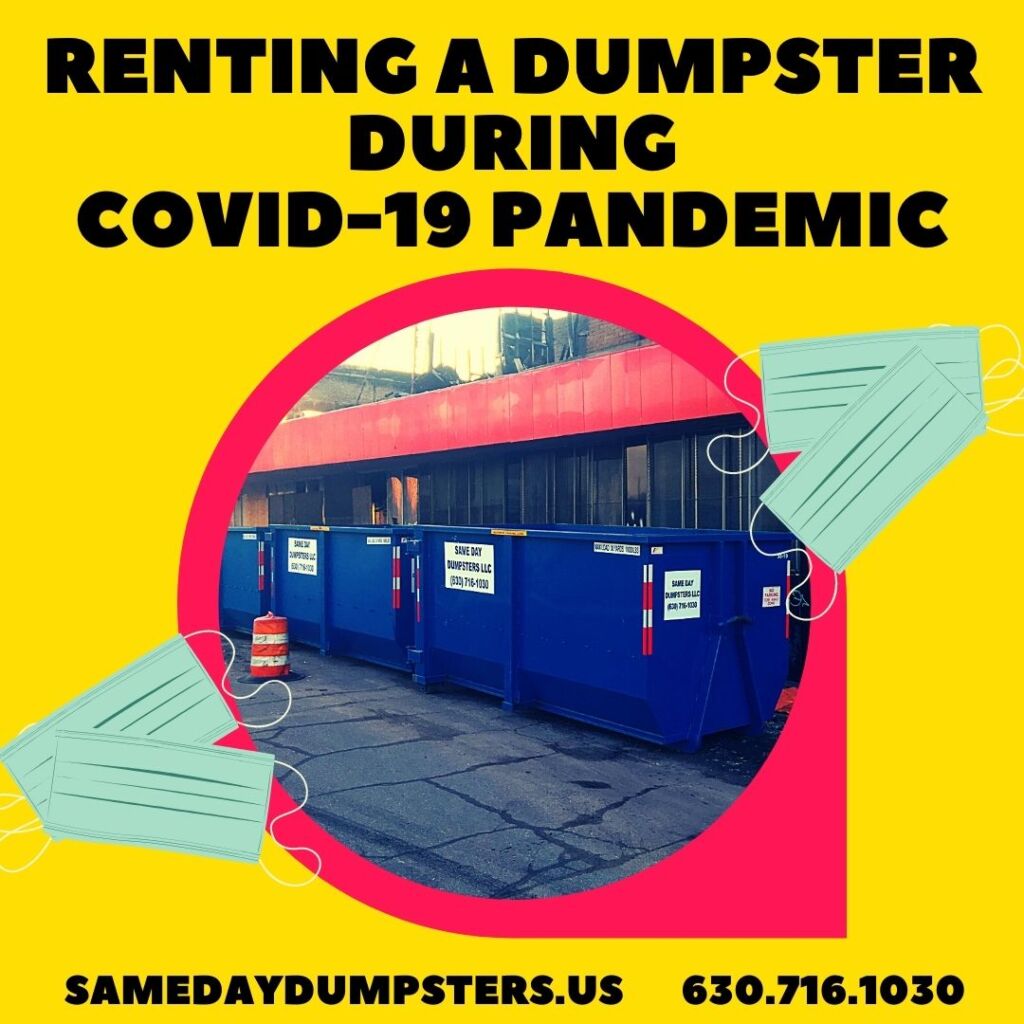 2020 will likely always be remembered as the year of the Covid-19 outbreak and quarantine.  In fact, the entire year has been dedicated to containment methods, study of the virus and how to navigate day-to-day life while staying safe.  However, this has been a year in which many have completed home projects or to-do lists simply out of boredom.  This winter proves to be no different, providing an ample opportunity to finally tackle those large home improvement, clean out and moving projects.
One thing that may be unclear is HOW to rent a dumpster during the Covid-19 pandemic.
Truthfully, nothing has changed in the world of dumpster rentals.  It is a true LIMITED TO NO-CONTACT service and was even before the virus ever hit.  First things first, dumpster rental companies are very much open during pandemics and quarantine as they are an essential service.  If you are unsure whether your waste hauler is indeed operating, drop them a call to confirm.  In the Chicagoland area, Same Day Dumpsters is always in operation and ready to serve.
With a fine-tuned process, check out how Same Day Dumpsters can supply limited, to no, physical contact delivery…
Call ahead to reserve a dumpster – you can easily schedule dates and our pros can help you determine which size will be best for your particular project right over the phone.
Payment is done over the phone – you don't have to have anyone physically near you to pay for your dumpster because we take payment during the time you call to reserve it.
You aren't needed for delivery – our drivers simply drop off the dumpster at the location you request it on the specified date and time you reserved.  Please make sure there are no vehicles or other obstacles blocking the driver from safely and efficiently delivering the dumpster.
When you're done using the dumpster, simply call us to pick it up – after the call, our drivers can come scoop up the dumpster, no muss, no fuss.
For the safety of our customers and staff, Same Day Dumpsters observes appropriate measures for social distancing.  If you have questions about rental policies or even about safety protocols used, please do not hesitate to contact us.  No matter which dumpster rental company you use, always make sure you're comfortable with their practices before you book with them.
To speak with our Burr Ridge Same Day Dumpsters Rental specialists about booking a dumpster, call 630.716.1030 today!