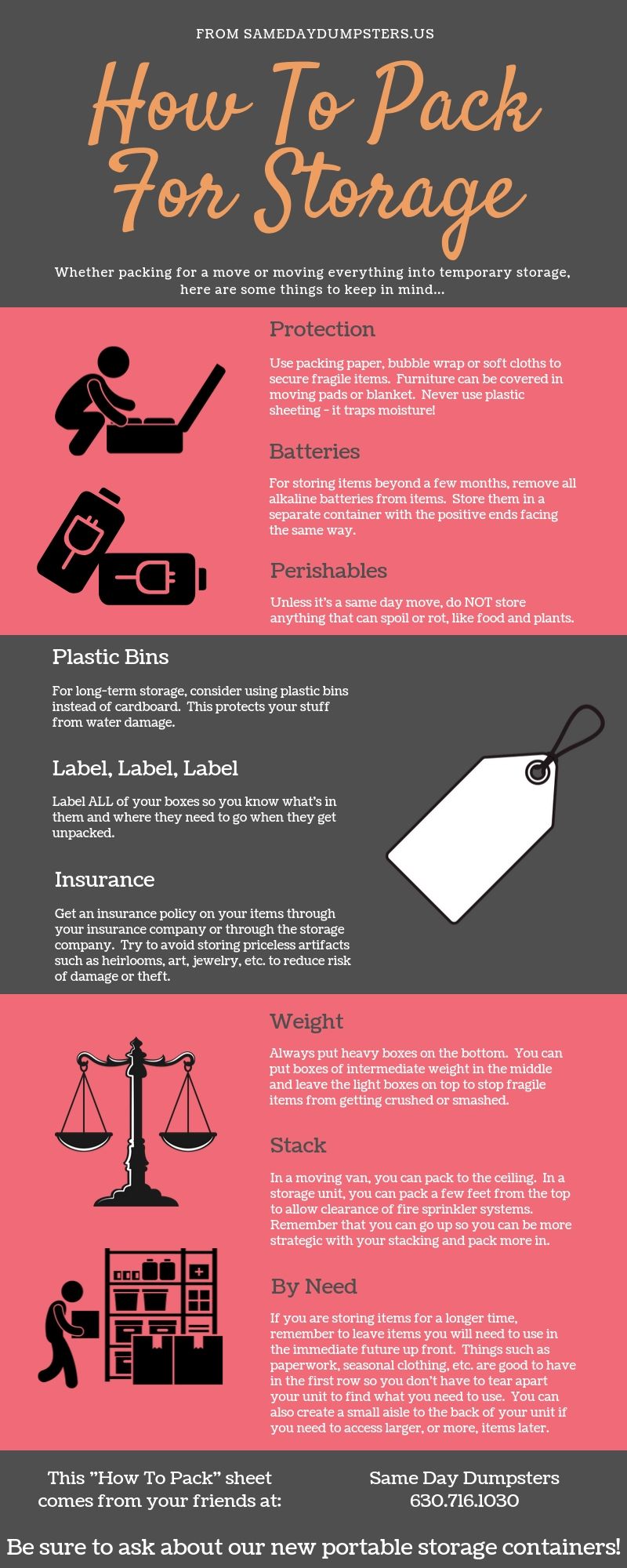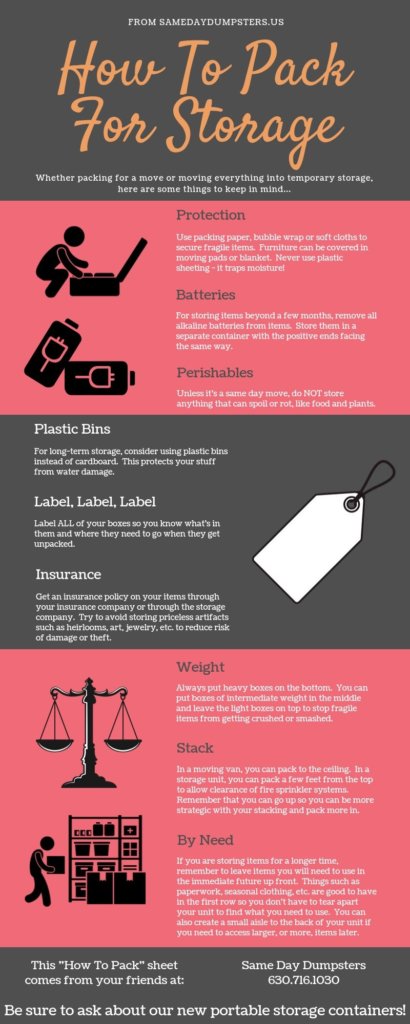 How To Pack For Storage
Whether packing for a move or moving everything into temporary storage, here are some things to keep in mind…
Protection 
Use packing paper, bubble wrap or soft cloths to secure fragile items. Furniture can be covered in moving pads or blanket. Never use plastic sheeting – it traps moisture!
Batteries
For storing items beyond a few months, remove all alkaline batteries from items. Store them  in a separate container with the positive ends facing the same way.
Perishables
Unless it's a same day move, do NOT store anything that can spoil or rot, like food and plants.
Plastic Bins
For long-term storage, consider using plastic bins instead of cardboard. This protects your stuff from water damage.
Label, Label, Label
Label ALL of your boxes so you know what's in them and where they need to go when they get unpacked.
Insurance
Get an insurance policy on your items through your insurance company or through the storage company. Try to avoid storing priceless artifacts such as heirlooms, art, jewelry, etc. to reduce risk of damage or theft.
Weight
Always put heavy boxes on the bottom. You can put boxes of intermediate weight in the middle and leave the light boxes on top to stop fragile items from getting crushed or smashed.
Stack
In a moving van, you can pack to the ceiling. In a storage unit, you can pack a few feet from the top to allow clearance of fire sprinkler systems. Remember that you can go up so you can be more strategic with your stacking and pack more in.
By Need
If you are storing items for a longer time, remember to leave items you will need to use in the immediate future up front. Things such as paperwork, seasonal clothing, etc. are good to have in the first row so you don't have to tear apart your unit to find what you need to use. You can also create a small aisle to the back of your unit if you need to access larger, or more,  items later.
For Your Convenience, We Have 8 Locations To Serve All Of Your Portable Storage Container Needs!
Dumpsters in Elk Grove Village
Bolingbrook Same Day Dumpster Rentals
Dumpsters for Rent in Hickory Hills