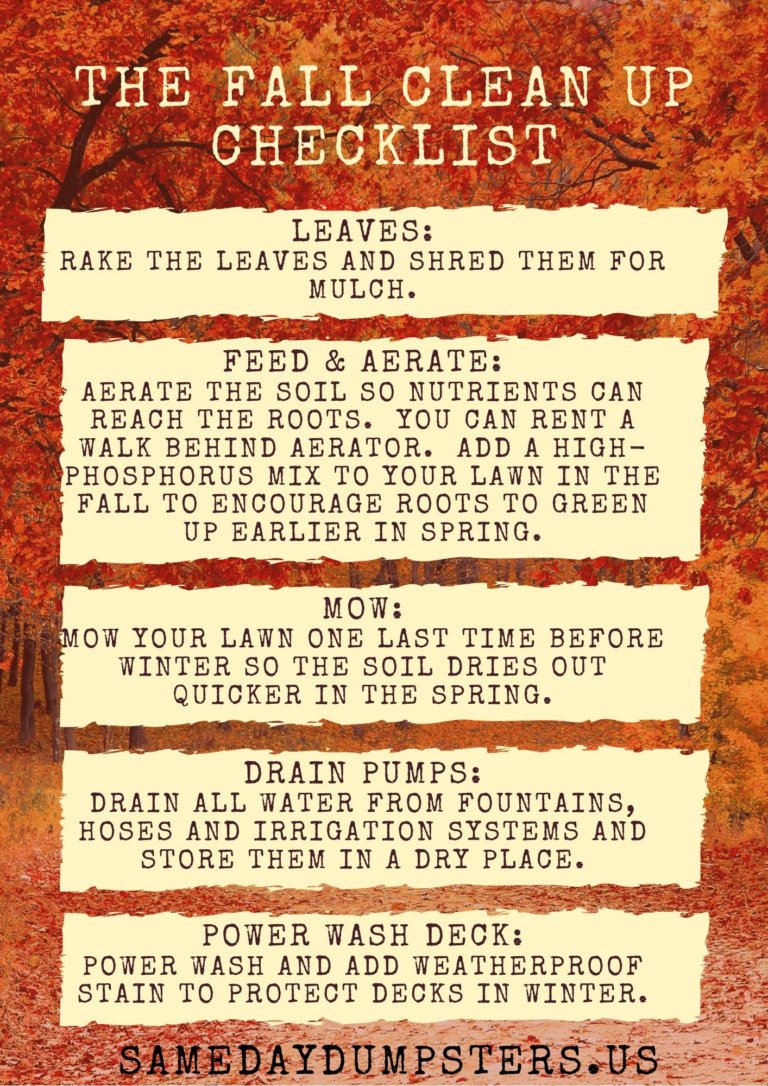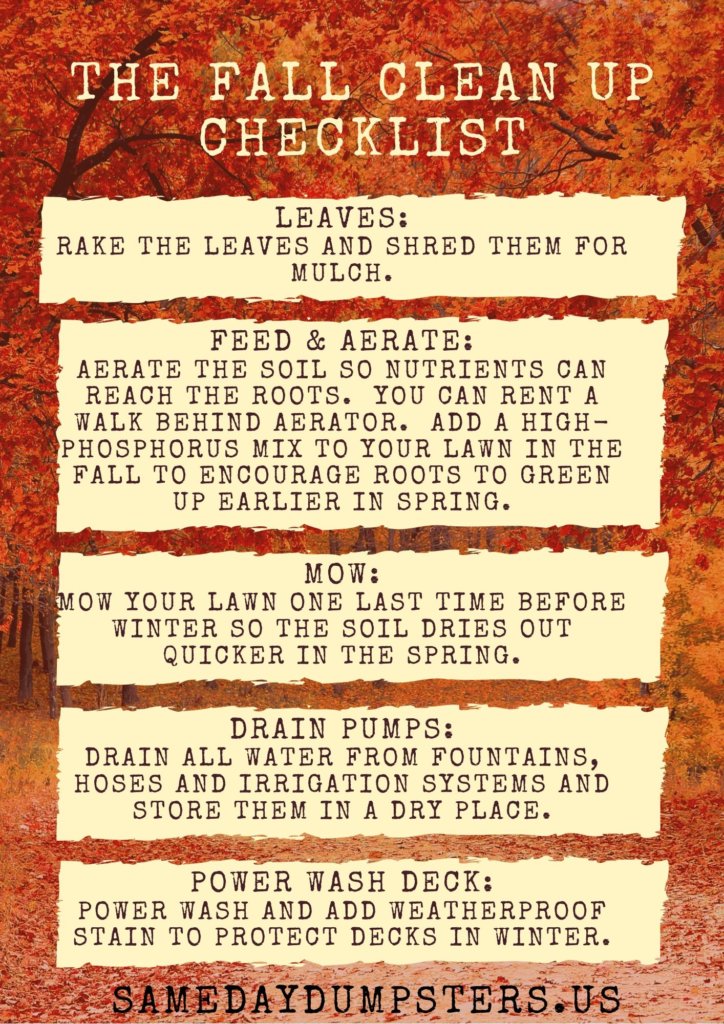 The Fall Clean Up Checklist
As winter steadily approaches, there are a few things you can do to prepare, preserve and protect your outdoor space.  By taking a few minutes to properly maintain your lawn and outdoor furnishings, you are ensuring that they will be healthy and in great shape come springtime.  For larger yards or considerable amount of work, consider hiring a local landscaping company to tackle it for you.  Be sure to clearly communicate everything you need accomplished and that you need to prepare your space for winter.
Whether you decide to handle it yourself or you outsource the work, make sure the debris is properly contained.  For smaller yards that don't need much to maintain, you can probably fit your debris into the yard waste bins provided by your waste management company.  With bigger yards or prep that requires large trees and bushes to be removed or trimmed, rent a small dumpster for disposal.  Once you fill the dumpster, simply place a call to the dumpster rental company and they will pick up the dumpster and dispose of your landscaping waste for you.  They can even handle materials such as dirt, sand, rocks and other debris you might accumulate during a winter prep session.
Here are the main areas you should cover during your fall clean up:
LEAVES:
Rake the leaves and shred them for mulch.
FEED AND AERATE
Aerate the soil so nutrients can reach the roots. You can rent a walk behind aerator. Add a high-phosphorus mix to your lawn in the fall to encourage roots to green up earlier in spring.
MOW
Mow your lawn one last time before winter so the soil dries out quicker in the spring.
DRAIN PUMPS:
Drain all water from fountains, hoses and irrigation systems and store them in a dry place.
POWER WASH DECK
Power wash and add weatherproof stain to protect decks in winter.
There are other things to be done if you have a garden, perennials or special plants in your landscaping but these main points apply to anyone who has a yard.  Be sure to store patio furniture in your garage or cover them up for winter.  If you have a grill, give it one last good clean, make sure it has no fuel source attached and get a sturdy cover to protect it from the bitter elements.
To Download And/Or Print The Checklist For Your Own Reference, CLICK HERE!
For Your Convenience, We Have 8 Locations To Serve All Of Your Dumpster Rental Needs!
Dumpsters in Elk Grove Village
Bolingbrook Same Day Dumpster Rentals
Dumpsters for Rent in Hickory Hills