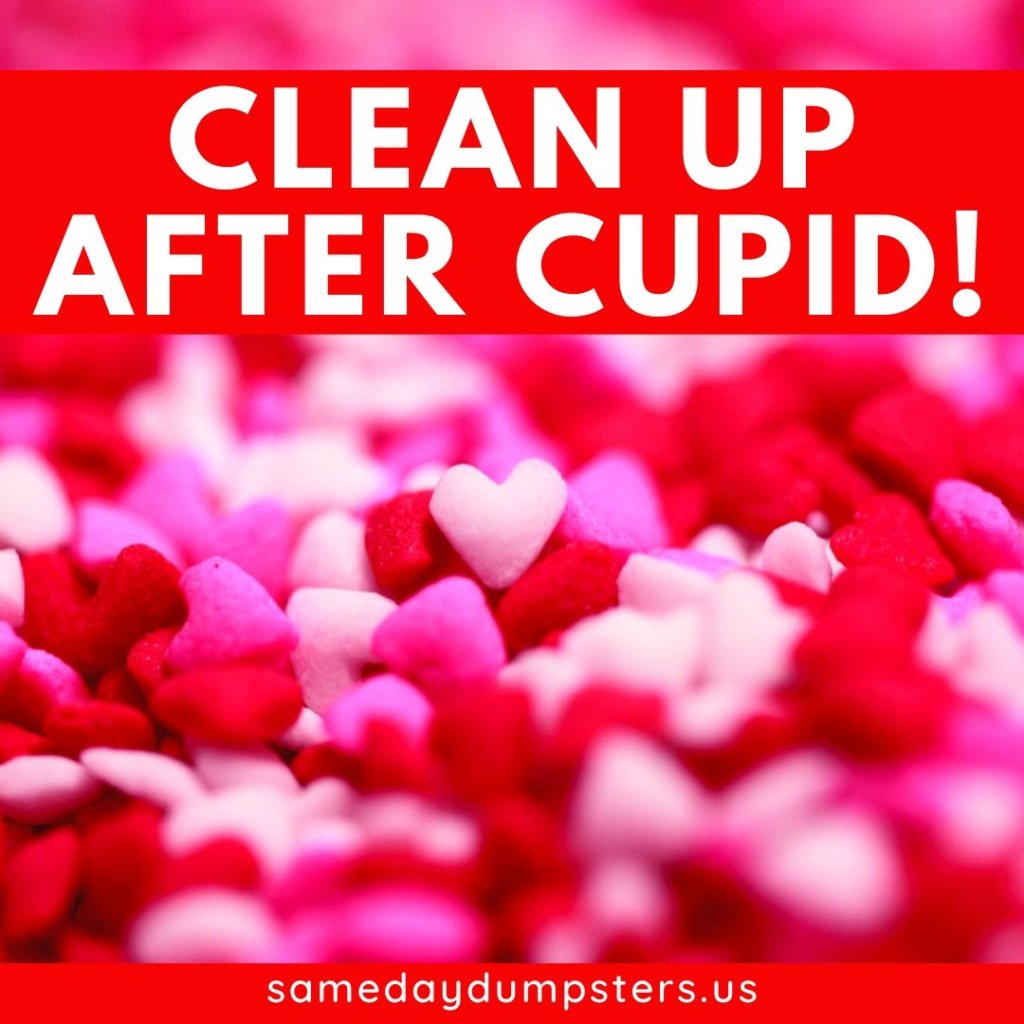 Whether or not you're prepared for it, Valentine's Day is this Friday.
Some folks have made plans long in advance in an effort to achieve the perfect level of sentimentality for their loved ones while others will spend this week scrambling for ideas on how to give extra appreciation to those they hold dear.  While we often have the best of intentions, sometimes life has a little extra for us to consider.  Namely, trash.
You may realize during your planning that your home is less "Under The Tuscan Sun" and more resembles an antique store with items lining ever space possible.  Perhaps your loved ones are visiting from out of town and you need that guest bedroom to stop being a storage closet to accommodate everyone.  Or, it's possible that you'd like to focus on your special evening and park in your garage instead of freezing in the Midwest tundra.
The real question is, how do you clean up the junk and have it gone before the big day?  Your best bet is to book a same day dumpster rental.  Same day means it gets to you fast and can be hauled out of there shortly after you call them to come get it.  Fast, efficient service to clean out the broken and useless garbage you've been hanging on to "just in case".  Not only is your place clean and clear for entertaining but there are no unsightly mounds of debris hanging around to dampen the holiday spirit.
What about AFTER Cupid has arrived and spread good cheer?
Having a good-natured Valentine's Day party can be a ton of fun!  Red, white and pink decor, a chance to celebrate positive vibes and love, laughter, food and games – you can't beat a themed party!  The only thing that isn't so festive is the mess left afterwards.  Who wants to wake up the next day and clean?  Well, depending on the size of your party, instead of trying to cram all of the post-festive garbage into cans and bags hoping your waste management will take it all, book a small dumpster.  Not only can you easily toss it all in one convenient spot but you can even tackle those other clean out projects you've been meaning to get to in one fell swoop.  Talk about making the most of a situation!
Planning ahead for Valentine's Day is a great idea but an even better one is to already have the clean up scheduled and set!
To find out how our dumpster rentals can help you, give us a call at 630.716.1030 or click here >>> Same Day Dumpsters!