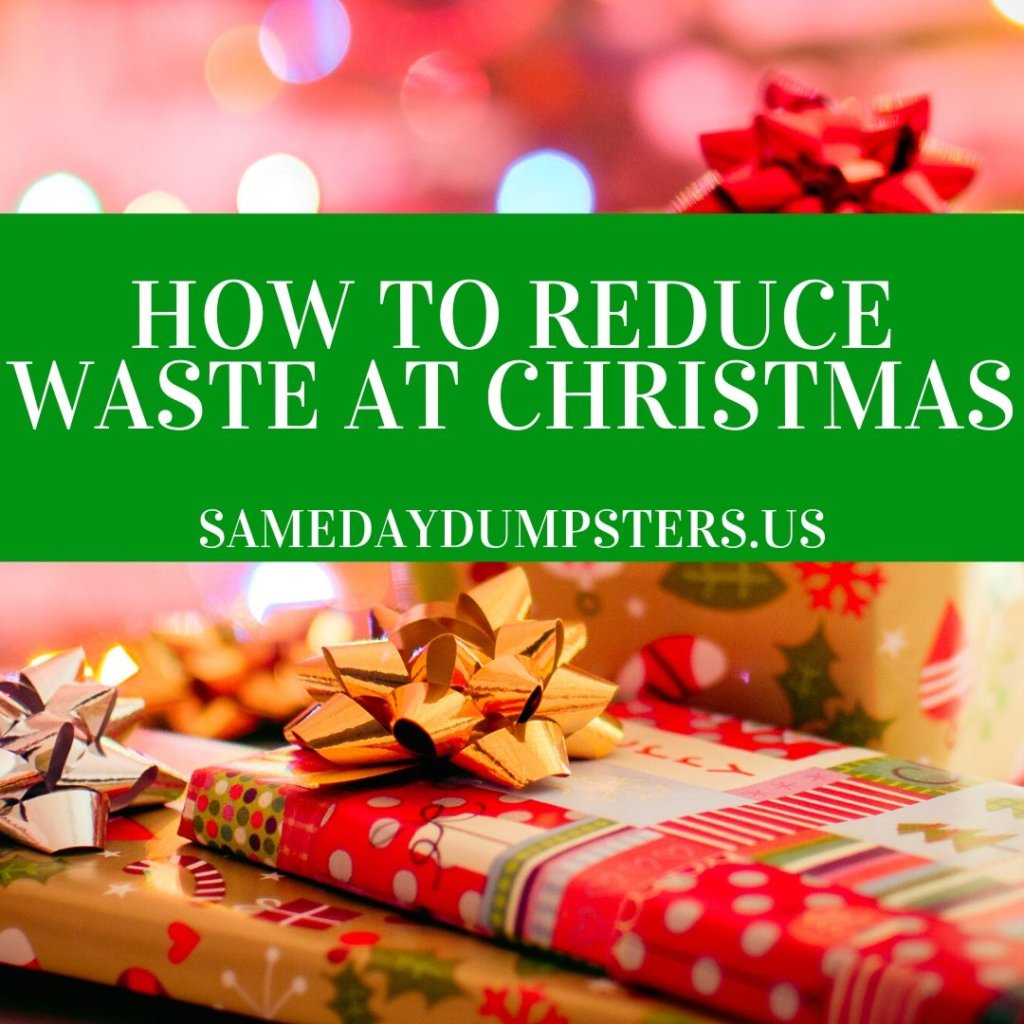 The holidays are full of joy, great company and delicious food but between Christmas and New Year's alone, we produce an additional 7 million pounds of waste.  This waste can clog up our landfills, harm plants and animals and even add debt to each family.  For a less stressful and much more environmentally smart holiday season, check out these tips on how to reduce the Christmas waste.
Holiday Cheer:
Instead of using wrapping paper that gets tossed after one use, try using comics, old maps, posters or pages torn from magazines.  You can always pack items in reusable bags, baskets, boxes or tins, which is like getting a gift within a gift.  Using gift bags is better than wrapping paper because the recipient has the ability to reuse that bag next season.  If you have to use wrapping paper, try finding recycled paper.
Gifts:
To eliminate unwanted items being tossed, try focusing on giving the gift of time or items that are sure to be used.  Here are a few examples:
Homemade – Try making cookies, pies or other food items.  You can reuse old wool or material to make a new scarf or mittens or assemble a collection of fave recipes.  Make Christmas ornaments from old photos or even make a short video of family and friends recalling their favorite Christmas memories.
Certificates – Offer services such as babysitting, doing the dishes, back rubs, cleaning the house, mowing the lawn, etc.
Experiences – Give the gift of an experience such as tickets to a concert, movie, skydiving lesson, museum outing or anything they have been meaning to try.
Memberships – How about a membership to their favorite museum, amusement park or even a subscription to a magazine or mystery box club?
Entertaining:
With all of the gatherings and holiday feasts, try and incorporate a place to put recyclables.  Use reusable cutlery, glasses, silverware and even provide cloth napkins that can be shaken out and washed.  Instead of buying new decorations, give your old stuff a new look.  Maybe some fresh paint or extra tinsel can make that old decor breathe new life.  The beautiful part of holiday feasts is that so much of it can be used in other dishes.  For instance, that cranberry sauce can be used to make cookies.
Re-Use:
Any sweet tins, glass jars or bottles that are at your party or given as gifts can be reused year round as storage containers.  Over 20 million waste batteries are lying about on Christmas so opt for rechargeable instead.  You'll get much better use out of them and be helping the environment at the same time.  There are programs that recycle old batteries so contact your town hall, library or other community centers to inquire about programs that do so.  You can also cut the pictures off of holiday cards you receive and make them into postcards for next season.  If you want to go truly green, send e-cards instead of paper.
Even implementing a few simple tips can make big changes to the environment and save you money in the long run. What is more important is that instead of generic gifts that might end up in the trash, you can give more thoughtful, heartwarming items that leave lasting impressions on the recipients.  Green or not, enjoy your holiday season to the fullest!
When it comes time to take down your biggest piece of decor, check out our guide on How To Recycle Your Christmas Tree!
To find out how our dumpster rentals can help you, give us a call at 630.716.1030 or click here >>> Same Day Dumpsters!