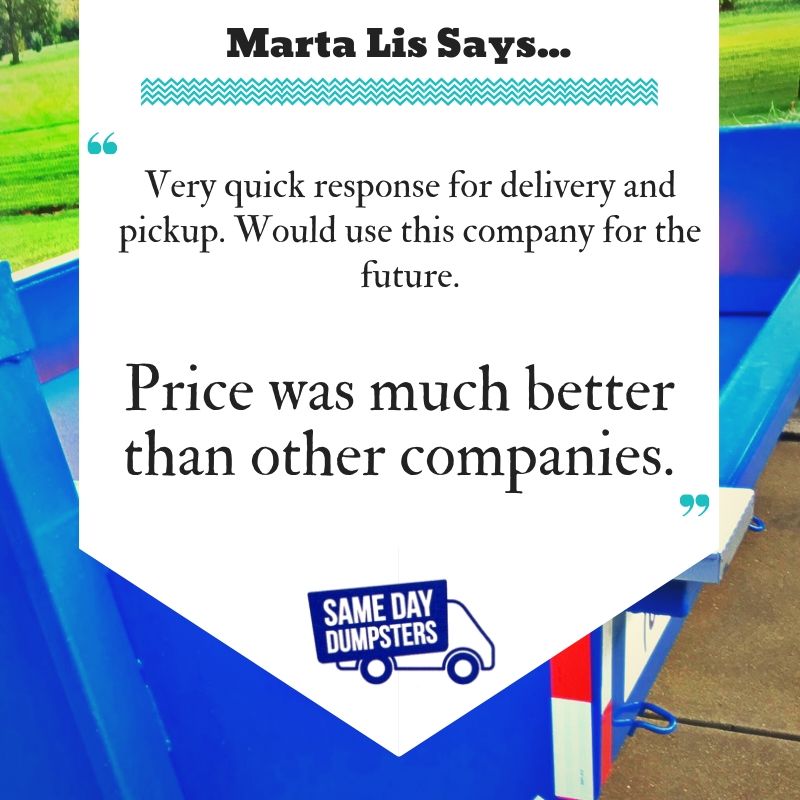 "

Very quick response for delivery and pickup. Would use this company for the future. Price was much better than other companies.

" – Marta Lis
A Dumpster You Can Afford
After many dedicated years serving the Chicagoland area, we've learned a few things.  We understand what factors are necessary to selecting the right dumpster service for your project.  It takes a hardworking team of professionals with abundant knowledge and creative thinking that provide unparalleled service to each and every customer.  That service has to be reliable and offer only the best equipment and choices the consumer would ever need.  Yet, there is one factor that rises above these astounding requirements…
you have to provide this impeccable service at AFFORDABLE prices.
Same Day Dumpsters offers some of the best dumpster rental pricing in the entire Midwest.  With same day delivery, a wide variety of sizes, a generous rental period and some of the best staff in the industry, you get amazing service without steep price tags.  Big chains often can't budge on pricing or options offered because they have huge overhead to pay for – such as employees, corporate offices, etc., etc. – and they provide little relief to homeowners on a budget or small businesses trying to make a buck.  You need a company that understands the daily struggles and becomes an ally, not a stressor.
Same Day Dumpsters only succeeds if you succeed.  It's that simple.  You need quality service, personalized attention and help navigating the process of getting rid of your project debris.  We make our customers a priority and strive to provide amazing service each and every time.  Our goal is to help you, not price gouge you so you have a miserable experience or can't complete your work.  What sense does that make?
Our sincerest gratitude to Marta for taking the time to let us know how we're doing.  It keeps us on our toes and helps us to improve our structure to bring you more products in the future and better service options.  We take pride in serving the Chicagoland and NorthWest Indiana areas and look forward to working with wonderful folks like Marta (and YOU!) in the future.  Remember, when you see the trusty blue dumpsters out and about, give us a wave!
SAME DAY DUMPSTERS – 630.716.1030
Call For Information Or To Book An Appointment