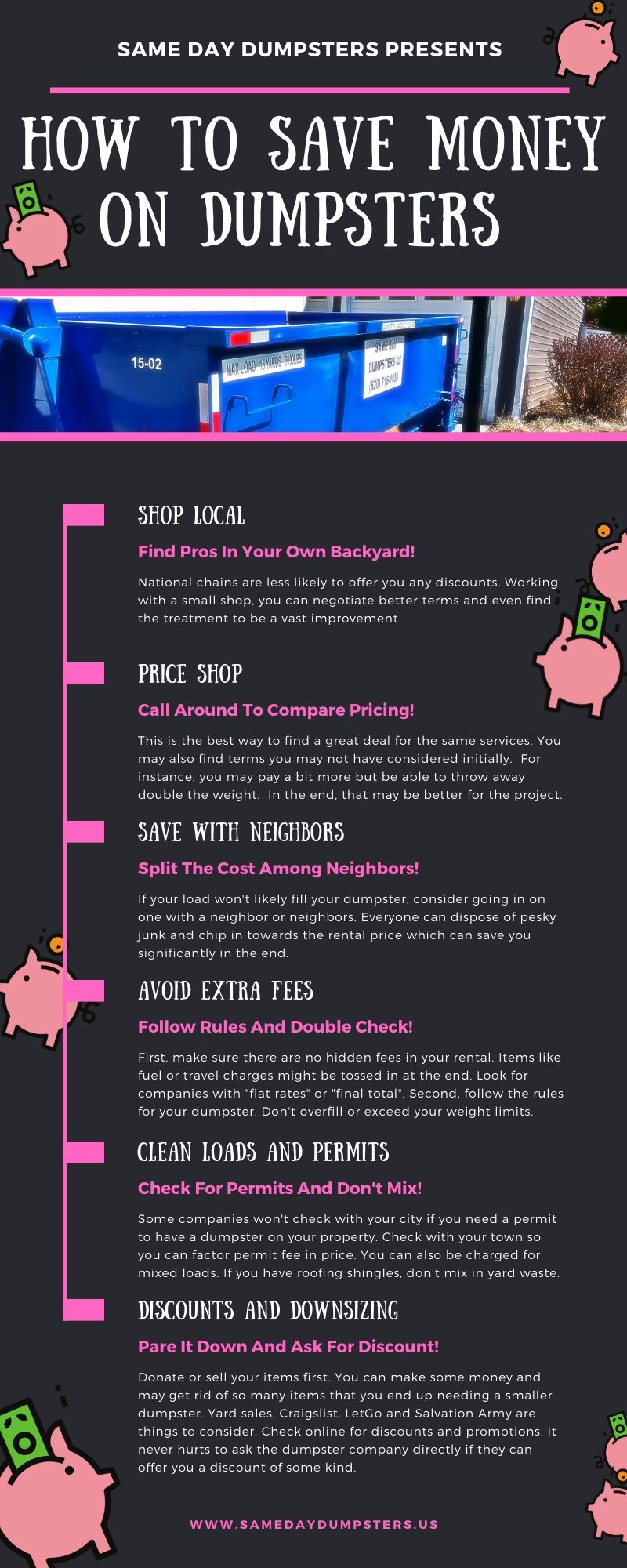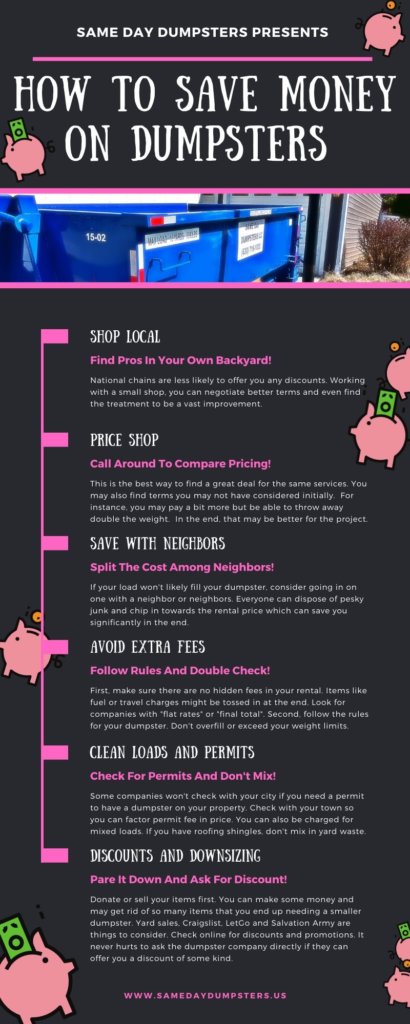 How To Save Money On Dumpsters
Shop Local – Find Pros In Your Own Backyard!
National chains are less likely to offer you any discounts. Working with a small shop, you can negotiate better terms and even find the treatment to be a vast improvement.
Price Shop – Call Around To Compare Pricing!
This is the best way to find a great deal for the same services. You may also find terms you may not have considered initially. For instance, you may pay a bit more but be able to throw away double the weight. In the end, that may be better for the project.
Save With Neighbors – Split The Cost Among Neighbors!
If your load won't likely fill your dumpster, consider going in on one with a neighbor or neighbors. Everyone can dispose of pesky junk and chip in towards the rental price which can save you significantly in the end.
Avoid Extra Fees – Follow Rules And Double Check!
First, make sure there are no hidden fees in your rental. Items like fuel or travel charges might be tossed in at the end. Look for companies with "flat rates" or "final total". Second, follow the rules for your dumpster. Don't overfill or exceed your weight limits.
Clean Loads And Permits – Check For Permits And Don't Mix!
Some companies won't check with your city if you need a permit to have a dumpster on your property. Check with your town so you can factor permit fee in price. You can also be charged for mixed loads. If you have roofing shingles, don't mix in yard waste.
Discounts And Downsizing – Pare It Down And Ask For Discount!
Donate or sell your items first. You can make some money and may get rid of so many items that you end up needing a smaller dumpster. Yard sales, Craigslist, LetGo and Salvation Army are things to consider. Check online for discounts and promotions. It never hurts to ask the dumpster company directly if they can offer you a discount of some kind.
For Your Convenience, We Have 10 Locations To Serve All Of Your Dumpster Rental Needs!
Dumpsters in Elk Grove Village
Bolingbrook Same Day Dumpster Rentals
Dumpsters for Rent in Hickory Hills
Dumpster Rentals in Schaumburg